Aktuelle News & Schlagzeilen
Hatheway Cultural Center equipped with new Electro-Voice sound system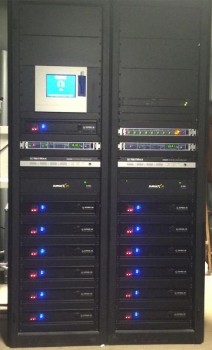 The 1,000-seat Hatheway Cultural Center at Lewis and Clark Community College in Godfrey, Illinois, has been equipped with an Electro-Voice sound reinforcement system. The installation features loudspeakers from the EV-Innovation family (EVA line array and EVF front-loaded models) as well as EV subwoofers, stage monitors, amplifiers, system control, and touchpanels.
As the previous sound system no longer met its requirements, the college opted to invest in a new sound reinforcement system. To provide powerful yet even coverage inside the venue, simulations of different locations and dispersion angles were made using EASE software. The ideal setup proved to be a solution centering around EVA line arrays from Electro-Voice's EV-Innovation family of installation-dedicated loudspeakers. At left and right of the stage, each main array consists of five EVA enclosures with two different dispersion angles.
In addition to EVA, the installation includes two EVF speakers, which act as a center cluster if the system is used in LCR (left/center/right) mode. Four further EVFs are installed as balcony fills. Complementing the system are six QRx 218S compact dual-18-inch subwoofers, as well as twelve full-range QRx boxes used as stage monitors. All speakers are powered by thirteen CPS power amplifiers equipped with RCM-810 remote-control/DSP modules. The system is monitored and controlled by a NetMax N8000 system controller.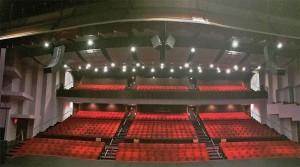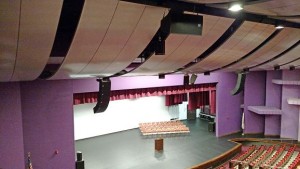 © 1999 - 2019 Entertainment Technology Press Limited News Stories