Aktuelle News & Schlagzeilen
Adlib acquires EFX Audio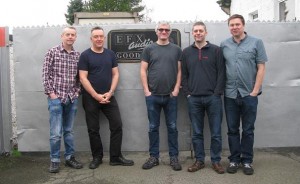 Since the early nineties Adlib has enjoyed close connections with numerous Scottish artists including Texas, Del Amitri and Gun together with their management and associated promoters. Naturally, through this, Adlib has also evolved a close business relationship with EFX that has developed into a friendship.
Adlib's plan for the next phase of the EFX story is heavy investment. The company is currently looking at relocating from Bathgate and purchasing warehousing in the Glasgow area. Significant investment in additional stock will include a 24-box L-Acoustics K2 system and a wider range of consoles including DiGiCo, Soundcraft and Avid.
Steph Fleming (Audio Manager Scotland) has recently joined the Adlib team.
Photo shows (left to right): Andy Dockerty, Graham Cochrane, Steph Fleming, Dave Jones and Dave Kay.
© 1999 - 2020 Entertainment Technology Press Limited News Stories