Aktuelle News & Schlagzeilen
DBN illuminates Wales Millennium Centre Celebrations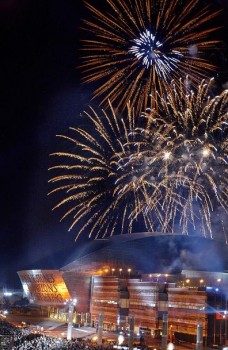 DBN Lighting from Manchester collaborated in another production with producers Walk The Plank to celebrate the 10th anniversary of the Millennium Centre in Cardiff Bay, Wales. DBN's Stephen Page was asked to design lighting for the spectacle, staged outside along the main concourse approach to the Centre.
Staged on Saturday September 12, the show, "Ar Waith Ar Daith" was a year in the planning and making and with over 600 participants, the largest outdoor theatre production in Wales to date. The show attracted crowds exceeding 12,000 who were enrapt as the age old tale of Welsh history, myth, allegory and magic unfolded via a series of promenade choreography, large format projections onto the side of the building, aerial stunts, lantern processions, choral singing, dance numbers and a pyrotechnic finale.
The show was directed by Walk The Plank's Liz Pugh, with fellow co-founder John Wasell as creative producer. The work featured a specially-composed soundtrack by BAFTA award winner composer John Rea. Eleven custom combined lighting/sound towers were built and distributed around the site rigged with assorted fixtures, supported by a massive quantity of lights spread out along the floor. A row of SGM P5 LED floods were used as 'foot lights' running the length of the site.
The towers were loaded with a selection of fixtures including 21 x Clay Paky Mythos, 16 x Sharpy Washes, 16 x Alpha Beam 700s and 12 x Sharpys, more P5s and Studio Due City Colors (DBN had just invested in the latest 2.5K RGBW versions of these). There were also four Alpha Beam 300s on each of the towers and around 40 x PAR cans distributed between them.
Eight of the original version City Colors were positioned on the floor adjacent to the Millennium Centre building and used to back light the performance space. The columns positioned all the way down the performance space restricted the placement and focusing of equipment which had to be factored in at every juncture. As there were so many community members in the cast, the first absolutely full run through with everyone involved was the show itself. "Ar Waith Ar Daith" was broadcast live on S4C.
Working alongside Stephen Page from DBN were Nick Buckley who co-ordinated a lot of the prep work on site and operated lights for the show, plus Moss Everhard and Pete Isherwood. They were assisted by Becky Heslop and Josh Kroon, students from the Royal Welsh College of Speech & Drama.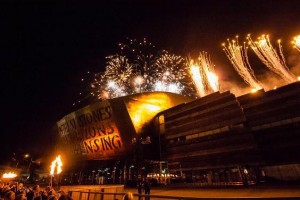 © 1999 - 2020 Entertainment Technology Press Limited News Stories