Aktuelle News & Schlagzeilen
DBN provides illumination for Manchester City Centre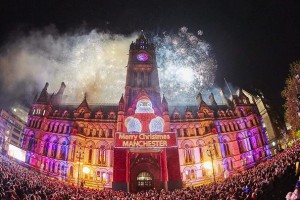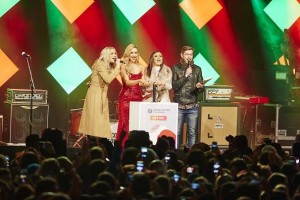 DBN Lighting provided full illumination for the 2015 Manchester City Centre festive lights switch on. The event was hosted by local radio station Key 103's Debbie Mac with 'Coronation Street' stars Kym Marsh and Catherine Tyldesley. Record crowds - estimated at around 20,000 - were entertained by Scouting for Girls and Lemar, the casts of 'Cinderella' and 'The Sound of Music', both currently playing in the city, together with a local choir.
DBN has been involved with the event for the last six years and this year Nick Buckley once again designed the lighting and co-ordinated everything on site. The stage moved to a new position on the Princes Street side of Albert Square, right in front of the Victorian Gothic architecture of Manchester Town Hall.
Audience lighting comprised 16 x SGM P5 LED floor fixtures strategically distributed around Albert Square, mounted on frames that clamped to the masts of four lamp-posts. This rigging process was developed by DBN as a solution to get lighting units where needed.
The P5 were joined by 12 x Clay Paky Mythos', six rigged on the bases of the PA delay tower risers in the middle of the audience area at about 6 ft. high. The other six were on the ledge of the Square's central Prince Albert memorial monument approximately 5 metres high.
On the stage, another 12 Mythos were rigged, six upstage in the air and the other six on the downstage edge of the floor. Upstage, seven CP A.leda K10 washes with B-Eye lenses were rigged on the truss either side of the row of Mythos', and the mid-truss featured another three K10s B-Eyes.
On the front truss were four Arri fresnels and two profiles as key light for the presenters and the singers. Also on this truss were another eight P5s to cover the area of audience lighting immediately in front of the stage. All of these were controlled via a Jands Vista S3 console operated by Nick Buckley.
To avoid 'black-hole syndrome' for the cameras - as the event was also internet-streamed – Buckley created a bespoke arrangement on seven truss towers which were fitted with individually dimmable LED panels. Gelled in festive red and green and mounted on their diagonals, this produced an ambient light-box backdrop. Working alongside Buckley were DBN's crew of Moss Everhard, Andy Pole and Eddie Marriot.
© 1999 - 2020 Entertainment Technology Press Limited News Stories