Aktuelle News & Schlagzeilen
Elation Cuepix Panels used on Pablo Alboran tour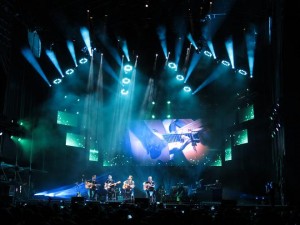 Spain's biggest selling artist of the year, singer-songwriter Pablo Alboran, toured the country recently beneath a cover of Elation Cuepix Panels. Fluge Audiovisuales supplied the Cuepix Panels for the Spanish leg of the tour, which kicked off in May 2015 and played large arenas and outdoor venues in major cities through October.
"The Cuepix Panels were an important element in the lighting design for this tour," states Chus Fernandez, who created the lighting design for the show and also served as tour op. "We used them to reinforce different lighting scenes with their colors and also to create shapes, text and pixel-mapping effects that supported the video content that the LED video screens behind them were displaying."
Fernandez split twelve Cuepix Panels across four different truss lines above the stage (3x Cuepix Panels per truss). All four truss fingers had adjustable-speed Kinesys chain hoist motors attached to them, which allowed them to change their position (height and angle) at different stages of the show. The Cuepix Panels were used in nearly every song.
Fernandez ran video content via a media server that was distributed to the Cuepix fixtures through Art-Net. The lighting board DMX commands were sent to an Art-Net input of the media server and from there on to the Cuepix Panels, which were used in 75 DMX channel mode.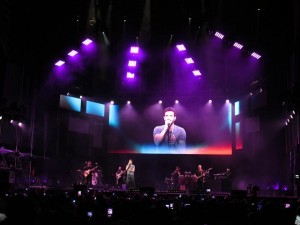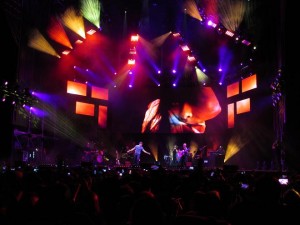 © 1999 - 2020 Entertainment Technology Press Limited News Stories