Aktuelle News & Schlagzeilen
Everlast Productions equips Zumba Fitness-Concert with Clay Paky Stormys and Sharpys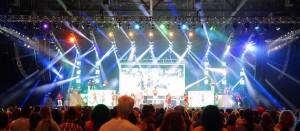 Everlast Productions, Inc. in Miami, Florida has taken delivery of 12 Clay Paky Stormy fixtures, which were dispatched to the Fitness-Concert at the 8th Annual Zumba Instructor Convention. ACT Lighting, Inc. is the exclusive distributor of Clay Paky products in North America.
The annual Zumba convention, at Orlando's Orange County Convention Center, is the largest gathering of the global Zumba family. This year's Zumba Fitness-Concert was a 90-minute, non-stop show featuring Zumba creator Beto Perez and a dozen artists, including singer Prince Royce and reggaeton performer Yandel, plus a 10-piece band, percussionist and LED drums. An audience of thousands of licensed Zumba instructors danced in sync with the choreographed songs. 
This year's show marked the third consecutive concert for which Everlast Productions supplied lighting and video support. AVS Production Group in New York furnished audio support and was the event producer. "There was an 8x8-foot lift in the middle of the thrust, a large LED wall upstage, pyro hits and hazers," says lighting designer David McCranie. The show required strobes that would not flicker during the 8-camera HD video shoot. "We tested the Stormys, and there was no flickering," McCranie says. "We scattered the Stormys around the rig on the overhead trusses. They provided hits for the music and crescendos on songs: When the tempo was up, the game was on for the strobes." McCranie also mounted 86 Sharpys on both overhead and ground trusses.
The lighting designer prevised the show for several days in Miami using GrandMA 3D. For the show, he deployed a pair of full-size GrandMA2 consoles, one active and one back up, with primary and back up NPUs to control the lighting and video, which consisted of preproduced live-action and graphical content and IMAG. ACT Lighting is also the exclusive distributor of MA Lighting products in North America.
© 1999 - 2020 Entertainment Technology Press Limited News Stories