Aktuelle News & Schlagzeilen
Fineline provides video screens and lighting for Rugby World Cup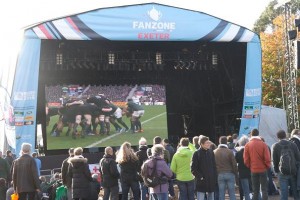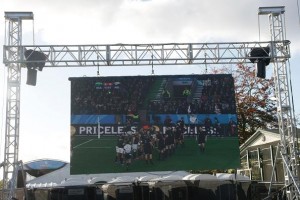 Fineline Lighting supplied LED screens and supports for the Rugby World Cup fan zone in Northernhay Gardens in Exeter city centre. The venue enabled Rugby fans without a ticket to Sandy Park or other games to enjoy the 2015 Rugby World Cup match days as they unfolded on the big screen in this official Rugby World Cup host city.
There were two video screens, the main one comprising 63 panels of Lighthouse R7 screen totalling around 50 square metres, which was flown on a truss installed towards the back of a Serious Stages 16 metre Supernova stage. There was capacity in front of this for up to 5000 sports fans.
Fineline's crew also installed two general purpose lighting trusses over the stage which were used for presentations or entertainment taking place on the stage which has included bands, singers, choirs and orchestras who have performed in front of the screen during the breaks and either side of the match action. These were loaded with PARs, complete with an Avolites Quartz console for control. The basic rig was expanded with additional lighting fixtures as required.
The second screen was located about half way down the park which could expand the capacity and accommodate additional audience. This was 15 square metres and was made up of a new product - Desay M6, a 6 mm pitch HD surface optimised for outdoor use. This screen was supported by one of Fineline's smaller FLSS5x4 Screen Support packages comprising two towers specially designed for quick construction by two people without needing any plant or machinery.
The screens were being fed with footage from the rugby games coming direct from ITV via a Freesat dish. The signal came in to the main screen and was relayed to the second one. Additional content from local film makers and community groups was also integrated into the days' events.
© 1999 - 2020 Entertainment Technology Press Limited News Stories