Aktuelle News & Schlagzeilen
Vince Clarke releases new namesake Eurorack module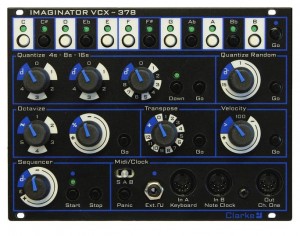 Synth-pop pioneer Vince Clarke announces availability of the Imaginator VCX-378, the second product release in an ongoing series of modules for the Eurorack small-format modular system under the namesake Clarke company name, designed and built to exacting standards in close collaboration with British 'boutique' analogue synthesiser and accessory designer/manufacturer Analogue Solutions."I wanted a practical writing tool that would generate musical patterns based on user-controllable variables," Clarke explains. The Imaginator VCX-378 produces one-bar musical phrases based on either user-control of the Clarke company's musical algorithm or a quasi-random solution.
Anyone seeking to trigger their own musical imagination (and MIDI synthesisers) can add an Imaginator VCX-378 to their Eurorack small-format modular system setup for almost unlimited combinations and permutations.
Housed in a 36 HP-width Eurorack module, the Imaginator VCX-378 has a front facia-located one-octave 'keyboard' - with each 'note' having a push button and associated LED - alongside two Quantize sections, Octavize and Transpose sections, a Velocity treatment, plus internal (Sequencer) and external (Midi/Clock) clocking, as well as a full MIDI interface.
In most cases, users will want to sync to their sequencing software by sending the Imaginator VCX-378 a MIDI note clock. This can be downloaded from the Clarke company website. The Imaginator VCX-378 then references these notes and uses this information to clock the musical patterns it produces. With everything correctly connected, users can use soft synths or send those musically imaginative patterns out to an external synthesiser.
© 1999 - 2020 Entertainment Technology Press Limited News Stories