Aktuelle News & Schlagzeilen
New Elation lighting for Brit Floyd "Space and Time Continuum" tour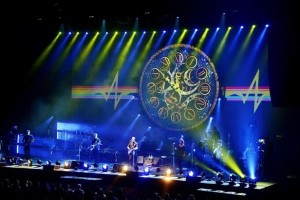 Following a world tour in 2015, Pink Floyd tribute band Brit Floyd is on the road again, touring North America and Europe beneath an updated rig that includes Elation's hybrid Platinum FLX among other Elation fixtures. The 2016 "Space and Time Continuum" tour recreates Pink Floyd music in a bigger stage production than past Brit Floyd shows.
Lighting design for "Space and Time Continuum" is a collaborative effort between Jake Whittingham and Dave Hill with Whittingham on tour with the production as lighting director and board op. In addition to 35 Elation Platinum Beam 5R units that the band had in the rig for the 2015 outings, a new Elation kit of 17 Platinum FLX hybrid moving heads, 8 Platinum Beam 5R Extreme beam lights, 26 ZW19 LED beam/wash effects and 8 ACL 360 Bar effect lights have joined the lineup.
While the Platinum Beam 5Rs give big aerial looks, the FLX fixtures, positioned on a midstage truss and upstage as well as side stage, have given Whittingham a greater number of possibilities. "As much of the rig is 5Rs, it was important that we were able to diversify the color palette of the show with a decent CMY mixing fixture," he comments.
"With a 5R heavy rig, creating dimension from a variety of viewing angles can be challenging, especially when being mindful not to become too repetitive. The FLX's bright lamp allows us to create more vivid and immersive audience looks. The beam mode has allowed me to dramatically beef up some of the big 5R sweeping looks and have replaced our lasers on a few cues as a crowd scanning alternative."
As for the ACL 360 Bars, "I intended to use them as a way of dressing the truss towers and creating audience-facing batten pops and a few interesting aerial effects to tie in with the strong beam looks already in the show," says Whittingham. As for the ZW19s, "the zoom range has allowed me to use the fixture as a straight swap for an LED beam fixture we were using, allowing us to create additional wash looks across the stage and through low smoke."
Brit Floyd shows are produced and promoted by UK-based CMP Live, who owns and is supplying the Elation lighting gear for the current tour. U.S. tour support in the form of lighting gear supply and personnel is from Performance Lighting of Chicago. Additional Lighting Team Members: Evan Porter (Crew Chief), Matt Graf (Dimmer Tech), and Sam Whittingham (General LX).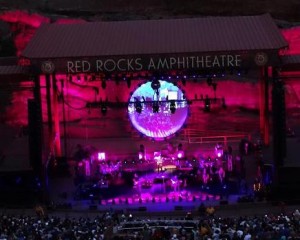 © 1999 - 2020 Entertainment Technology Press Limited News Stories