Aktuelle News & Schlagzeilen
Clay Paky Mythos project at the Tower of London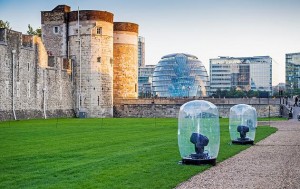 Twelve Clay Paky Mythos fixtures projected text and images onto the Tower of London in September 2015 as part of a charity event honouring wounded armed forces veterans. The initiative was launched to raise awareness of the Haig Housing Trust, which offers housing assistance to ex-service people and the week culminated in a fundraising event, 'For Queen and Country', to mark the charity's centenary.
London-based Lightning Events was tasked with projecting the messages onto the side of the tower, and specified the Mythos fixtures, rigging them in weatherproof Flight Domes around 30 metres from the tower walls and near to the moat.
Production manager for the event, Lightning Events' Tom Foster, explains: "We liaised directly with the Haig Housing Trust for this project. Their initial brief asked to project along all sides of Tower, which would have been extremely expensive. We therefore devised a more economically viable alternative, which relied on the power of the Clay Paky Mythos fixtures. Some of the gobos we had were particularly text heavy, but using Mythos we could project long distances - sometimes 50 metres - with good clarity and clean sharp text."
Controlled by a Chamsys MQ60, Foster rigged most of the 12 Mythos fixtures pointing at the north and west walls. Alongside the Mythos projections, portraits of wounded and sick servicemen, taken by celebrity photographer Rankin, were projected onto the walls of the Tower using 21k Panasonic WUXGA Projectors. This part of the visuals was managed by First Network. MC of events for the Tower of London event was Carol Vorderman.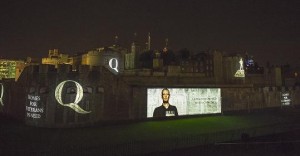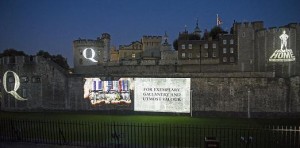 © 1999 - 2019 Entertainment Technology Press Limited News Stories