Aktuelle News & Schlagzeilen
Colour Sound lights Arcadia 'Metamorphosis' in Bristol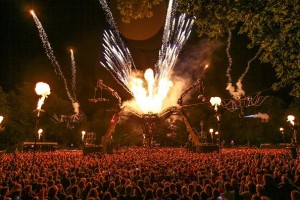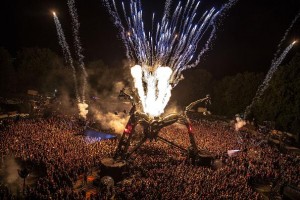 Arcadia's 'Metamorphosis' came alive in a city centre setting in Queen Square Bristol, where together with the Lords of Lightening and an array of aerial stunts the 30 minute mixed-media show united the spirit of rave and physical theatre with some technical achievements.
London based lighting and visuals rental company Colour Sound Experiment renewed their working relationship with Arcadia, providing lighting for the 12 metre high three-legged spider built out of industrial scrap metal. This project was co-ordinated for Colour Sound by Haydn Cruickshank and Arcadia's technical production manager, Tim Smith, with Stu Barr looking after all the Colour Sound elements on site, working alongside four Arcadia technicians.
Some upgrades to the lighting kit were made since the Arcadia spider performance at Glastonbury this year, which saw the launch of the 'Metamorphosis' show. The main changes in the lighting were replacing the Atomic strobes on the spider with new SGM XC-5 LED strobe units and adding lighting fixtures to six PA towers erected for the surround sound system in Queen Square.
Four Robe Pointes were attached to each of the spider's three legs, with another 10 deployed on its belly underneath the DJ booth. Over 70 Dragon LED PARs were used to light various scenic elements of the spider structure, with Clay Paky Alpha Beam 1500s making the piercing eyes, of which there are three sets for the full 360 effect. Four XC-5 strobes adorned each spider leg with another three on the belly. The six PA towers were each rigged with one Robe BMFL Spot, two Pointes, two more XC-5s, three Dragon PARs and a hazer machine.
All lighting was controlled via an Avo Sapphire touch console running in conjunction with the overall Arcadia show control system that also dealt with the hydraulics, winches, fire, pyro, lightening, etc. Colour Sound supplied over 50 additional Dragon LED PARs and 12 Studio Due City Colors LED floods to light the trees and selected foliage in Queen Square. Some of the Dragon PARs were ratchet strapped to the tree trunks, and special rain-covers built for these and the other exposed lighting fixtures and smoke machines.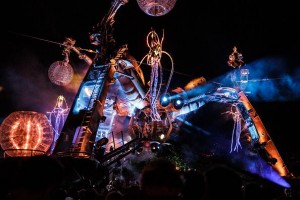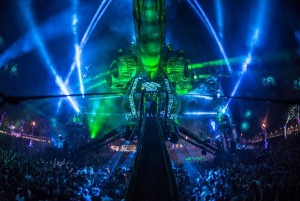 © 1999 - 2019 Entertainment Technology Press Limited News Stories