Aktuelle News & Schlagzeilen
Colour Sound provides lighting kit for Dismaland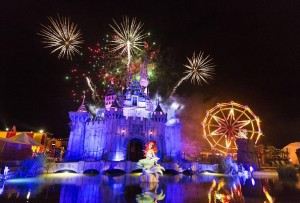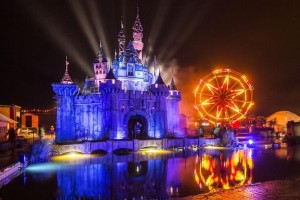 Colour Sound Experiment has provided lighting kit to LD Alan King for his illumination of the castle at the antithetical theme park wonderland of Dismaland, a temporary-pop up art intervention that turns the safety of simulacrum on its head - at the site of Tropicana, a derelict seafront lido in Weston Super Mare, UK . The experience is curated by graffiti artist and provocateur, Banksy.
The mangled, rusting, mean, grimy steelwork of the castle is a sinister visual centrepiece for the dystopian experiment, and has been constructed by art collective Block 9. Alan King regularly lights Block 9's scenic spaces, so they invited him to add some treatment to their version of the sacred saccharinity of Anaheim's Sleeping Beauty Castle.
Colour Sound supplied around 30 x IP rated high dispersion MBI lights for which he improvised custom gel frames that clip to the front, allowing a selection of specific dirty colours to emphasise the sense of darkness, decay and dilapidation. These fixtures are scattered all around the building, some attached to the structure and others fastened to the floor. The MBIs are augmented with around 30 of Colour Sound's Chauvet ColorBand Pix IP rated LED battens which also diffuse the light.
The Disma castle is surrounded by a moat which is part of the old public lido - opened in 1937 and closed in 2000 - swimming pool, which hosts a selection of other objects integral to the art, including a crashed partially submerged police armoured vehicle and Banksy's hallucinogenic mermaid. A few ETC Source Fours in waterproof housings are secured in place on top of the lido buildings for highlighting other elements and art pieces.
The lighting states were programmed on Alan King's ChamSys MQ60 and are run from a networked laptop on site that can be remotely accessed by King - who can look at the lighting via a security camera - and tweaked if necessary.
(Photos: David Levene)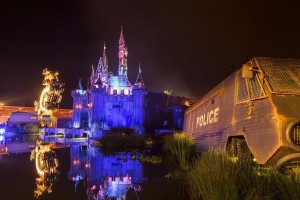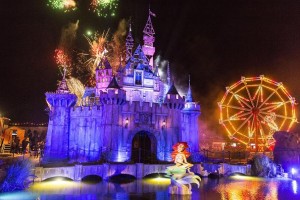 © 1999 - 2019 Entertainment Technology Press Limited News Stories