Aktuelle News & Schlagzeilen
WorxAudio loudspeakers installed at Henderson Church of Christ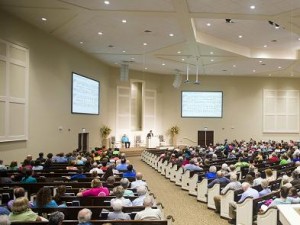 To improve the audio clarity in their new sanctuary, the management of Henderson Church of Christ recently installed a new sound reinforcement system, with line array technology drawn from the TrueLine catalog of WorxAudio Technologies, a division of PreSonus Audio Electronics.
Brownsville, TN-based Tennessee Concert Sound was contracted to design and install the church's new sound system. After consulting with church leaders and surveying the room, the firm ultimately decided to deploy twelve WorxAudio X1i-P powered line array loudspeakers. Jarred Clayton, Tennessee Concert Sound's Sales and Design representative, discusses the project.
"The new sanctuary at Henderson Church of Christ is an expansion to the church's original building," Clayton explaines. "The shape of the space is similar to that of a baseball diamond, with the pulpit being positioned at Home plate and facing out into the congregation. The back wall is roughly 100 feet from the pulpit while ceiling height is approximately 28 feet. The room accommodates 1,150 people with fixed wood pews and padding for 950 people and two 'stadium seating' areas along the rear left and right of the room - each with 100 seats. Further, the floor inclines three feet from the front to the rear of the room."
"Henderson Church of Christ is very traditional in terms of its worship services," Clayton continues. "Acapella singing is led by a worship leader from the pulpit microphone while the congregation sings along. Lessons and prayers are also delivered from behind the same pulpit microphone. Clarity of the spoken word is extremely important. Because of the way the room 'fans out' from the pulpit, broad horizontal dispersion was another extremely important consideration."
The church's new sound reinforcement system consists of two flown clusters in a left-right configuration - each with six enclosures - that are located above the pulpit on the outer edge of the stage. Each cluster is flown at a height of 27 feet at the top, with the bottom element at approximately 22 feet. The loudspeakers are suspended using WorxAudio's TrueAim Grid via the company's TrueRig 8-inch beam clamps and 1.5-inch couplers.
© 1999 - 2019 Entertainment Technology Press Limited News Stories