Aktuelle News & Schlagzeilen
GLS celebrates 20 year anniversary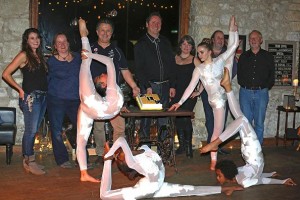 Southampton UK based lighting rental company - and newest member of the HSL Family - just celebrated twenty years in the pro lighting and entertainment technology industry. Staged at the Dancing Man Brewery, housed in the old Wool House dock warehouse in the historical heart of the town's port facilities, the event was attended by close to 100 guests, prompting GLS MD Ian Turner to declare, "Finally after twenty years in business we are proud to say that we can organise a piss-up in a brewery!"
HSL's MD Simon Stuart, right at the forefront of the party, commented, "It was an absolutely cracking evening marking this great achievement with many industry friends and family - and here's to the next twenty years!"
Guests were entertained by rhythmic gymnastics dance performance troupe, AlienZoo, and multi-instrumentalist and singer, Neil Kelso. Party people included clients and staff who had worked with GLS back in 1995 (when Ian Turner founded the company with his wife Jac), some of whom are no longer in the industry and others who are.
GLS's first ever employee Karen Brown was among the revellers. Currently out as crew boss on the new Motörhead tour, Karen and her team hit the celebrations after closing the truck doors back at the warehouse and seeing the truck off to Millennium Studios for production rehearsals ahead of the tour which started in Europe.
Other guests included long term suppliers like Ian W Brown (no relation to Karen) from Robe UK, who has supplied GLS with various kit and brands of moving light since they started. Amongst the staff and freelancers from far and wide there were also plenty of friends and colleagues from other lighting companies around the country.
Photo shows (left to right): Zu Wild, Jac Turner (GLS), Simon Stuart (HSL), Ian Turner (GLS), Calire Lewis (GLS), Howard Dean (HSL) and David Jackson with members of AlienZoo.
© 1999 - 2020 Entertainment Technology Press Limited News Stories