Aktuelle News & Schlagzeilen
Mojave Audio debuts MA-1000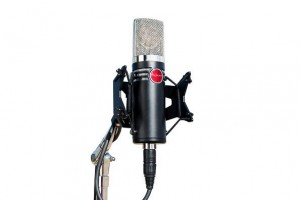 Mojave Audio releases the MA-1000 large-diaphragm multi-pattern tube condenser microphone, the first model in the company's new Signature Series line of products. Designed by Technical Grammy award winning microphone designer David Royer, the MA-1000 features an original new old-stock 5840 tube, a 251-style capsule, and a custom-designed transformer built by Coast Magnetics. The MA-1000 includes a remotely controlled, continuously variable polar pattern selector that is located on microphone's power supply.
The MA-1000 also offers a switchable 15 dB pad that facilitates high SPL recordings with no microphone distortion or preamplifier overload. This is particularly useful for close miking electric guitars. Similarly, the microphone provides a switchable low frequency roll-off designed to reduce the excess low end created by proximity effect, the bass buildup commonly experienced during close miking of vocals and acoustic instruments. The LF roll-off capability is also useful when miking electric guitars where less low end buildup is desired.
The microphone ships with a new shock mount design that was created by and licensed from sibling company Royer Labs.
© 1999 - 2020 Entertainment Technology Press Limited News Stories