Aktuelle News & Schlagzeilen
Robe lights Fed Cup final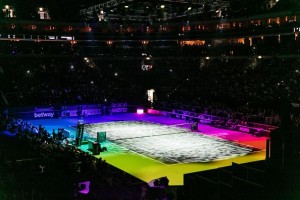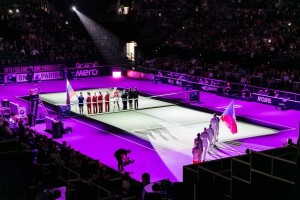 Czech Republic won its fourth Fed Cup women's tennis title in five years in the 2015 final (against Russia) staged at Prague's O2 Arena in front of a capacity 14,500 audience. Robe was one of six sponsors. Robe moving lights were also used for the opening ceremony show designed by Milan "Mejla" Froňek from Lightneq. The installation and technical support was co-ordinated by Prague-based AV Media.
For the FED Cup final, Milan used some of Robe's newest fixtures including 26 x BMFLs - 12 Blades and 14 Spots; 16 x LEDBeam 1000s; 12 x Pointes; 10 of the new LED Strobes; five Squares - making their live debut; 4 x CitySkape Xtreme LED floods and two CycFX8s.
These were arranged on four trusses flown around the O2 Arena's central LED display cube. For the opening ceremony these production trusses were lowered in to a trim height of 12 metres above the playing area below.
Milan used the BMFL Blades to map and project a tennis court created from light onto the area below, with gobos dividing it up with the line markings. Also, with use of the BMFL Blades' framing shutters and gobos, the lights mimicked a computer generated tennis match for a section of the show.
The tennis game idea was first initiated by Robe's own lighting project manager for the event, Petr Kolmacka. Other elements of the show included the morphing of the three colours making up both the Czech and Russian flags combined with strobe effects and the rainbow colours on the tennis court to symbolise peace and tolerance. The rest of the lights were used for general lighting during the opening ceremony on the play area and around the audience.
In addition to the opening ceremony, the lighting was used to add some razzmatazz for the team entrances. During the breaks in the games, some of the fixtures illuminated parts of the auditorium, and International Tennis Federation and Fed Cup logos were projected onto the playing area via custom gobos, together with those of the players' names.
(Photos: Lukas Pelech)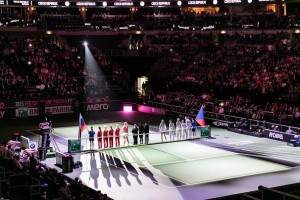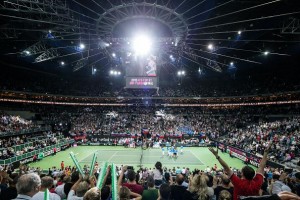 © 1999 - 2020 Entertainment Technology Press Limited News Stories