Aktuelle News & Schlagzeilen
Clay Paky lights Benny Benassi & Friends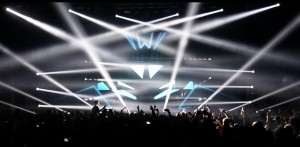 Italian dance event Benny Benassi & Friends, staged at Bologna Exhibition Centre, was conceived and created by DJ Benny Benassi to coincide with the Motor Show. Lighting designer Jerry R. Romani chose Clay Paky Sharpys and A.leda B-Eye K10, rigged on a hanging structure consisting of straight battens placed at different heights, to illuminate the space in hall 36 where the fourth edition of the event was held.
"The space was huge and the battens were also used to mark out areas adjacent to the one reserved for the live show, like the dressing room area, the refreshment area, and the guest area behind the stage, where a lot of DJs were found, like Albertino, Alex Gaudino, and others," Romani explains.
There was a hidden scaffolding passage between the dressing rooms and the stage, directly to the DJ mixing desk. A large battery of Sharpys ensured light, colours, beams, and geometric and visual effects. Besides being used to create dynamic graphic images and being able to call up a library of pre-programmed visual effects, the A.leda K10s, with individually controllable LEDs, helped flood the room with colours.
© 1999 - 2020 Entertainment Technology Press Limited News Stories