Aktuelle News & Schlagzeilen
Clay Paky lights the closing show of the world's longest football match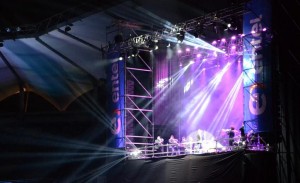 A new world record was set for the "Guinness Book of Records" at the La Florida stadium in Santiago, Chile, on Sunday 22 May. A total of 2,357 players took part in a 120-hour soccer match and broke the previous record held by England, where a non-stop 105-hour game was played.
For the closing show of the match, Clay Paky lights were used under the supervision of local producer Real Audio Sistemas. At around 7 pm the cup was raised to celebrate the new record, and the show started, which lit up the sky over La Florida. Twenty-four Sharpy Wash 330s coloured the stage. Six Alpha Spot HPE 1500s were also added for singer Américo's show. The lighting was handled by the Chilean lighting designer Polilla.
Mythos and Scenius units played a leading role in the stadium show, their gobos covered the field with beams of light which could be seen from Vicuña Mackenna, an avenue which is more than 2½ miles (4 km) from the venue. Wireless Solutions's DMX wireless system was also used. The signal got from the lighting desk to the lighting network about 110 yards (100 metres) away.
© 1999 - 2020 Entertainment Technology Press Limited News Stories