Aktuelle News & Schlagzeilen
CPL delivers technical design and production for Fudge live hair styling event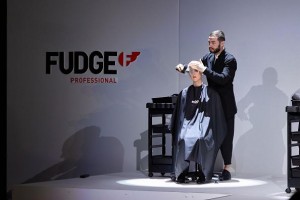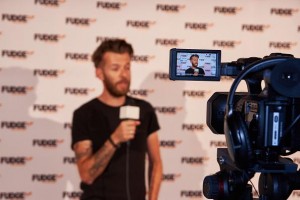 Production specialist Bright collaborated again with technical solutions experts Central Presentations Ltd (CPL) who delivered full technical design and production for a live hair styling and catwalk presentation event in Manchester for hair brand Fudge Professional.
The event was staged in Studio 12 of the Old Granada Studios in the city, which offered up a bare space, so staging, set, lighting, sound, and video had to be built and installed from scratch to realise the Fudge team's original concept.
CPL started with the installation of a 21 ft. wide by 11 ft. projection surface - in conjunction with SSL - with a doorway below for entry/exit onto and off the stage and runway. The stage in front of the projection wall was 7 metres wide, 3 metres deep and 600 mm high and in front of that, the 2 metre wide runway ran 7 metres down the room.
Three runs of house trussing were already available in the room, loaded with 12 x Chauvet Legend 330SR spot moving heads so these were incorporated into the show and augmented with CPL's Arri and ETC fixtures. Twelve Arri L5-C LED fresnels and ETC ColorSource LED Spots were rigged on wind-up stands positioned either side of the catwalk. Twelve ADJ UV LED COB canons were also on the rig for a theatrical effect. Lighting control was an Avolites Quartz console run by Jordan Pitcairn.
One of CPL's new Sony FS7 hand-held cameras fitted with a Teradek wireless HDSDI unit was operated by Nigel French, and images from this fed via a Barco PDS 902 switcher to the projector, a Panasonic RZ12K laser. Ian Mahoney operated the video using Resolume VJ software to help manage logos and other graphics and content required to be played in during the show, together with additional material via CPL's MacBook Pro running PlaybackPro. Much of the live camera switching was improvised - a FreeSpeak wireless comms system connected the show caller to Nigel French and Ian Mahoney - and completed 'on-the-fly' as the show unfolded.
For audio, CPL specified a D&B point-source Y7P system, with speakers flown from the house rigging and spread around the space, together with two B4-Subs behind the set. Sources were a variety of backgrounds and some live mics, all mixed via an Allen & Heath QU16 desk and powered by D12 amps. Sound on site was co-ordinated by Simon Taylor, who ran constant audio beds so music was always audible.
A pre-entrance bar area was also created for the event, with the production taking advantage of the in-house box truss and LED PARs already available to create an orange glow - mimicking Fudge's ident colour - around the entranceway. To this a bunch of Smartbatt LED uplighters were added around the room highlighting areas of interest in the studio as well as vinyls attached direct to the wall by Fudges team.
A ground stacked D&B Y8 system served the DJ, comprising six Y8s and two V-Subs complete with Pioneer DJM-800 mixer and two CDJ-2000 dex, also part of the package. Fudge ran their own mediated 'live' social media wall for which CPL supplied a Panasonic EZ700 projector flown from the box truss, mounted via one of their proprietary projector brackets and projected directly onto the studio walls. A photo wall area consisting of a graphic wrapped panel was lit with Arri 650 Watt studio fresnels on C-stands for post event selfies.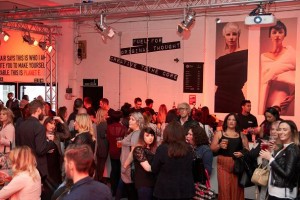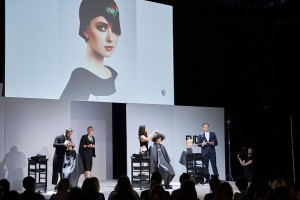 © 1999 - 2020 Entertainment Technology Press Limited News Stories