Aktuelle News & Schlagzeilen
Earth Wind & Fire supplied by HSL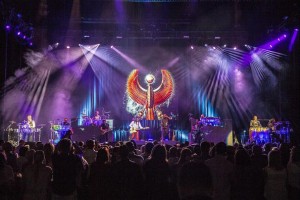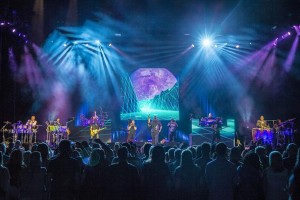 HSL supplied lighting and rigging to Earth Wind and Fire's UK and European tour which included a closing headline slot on the West Holts Stage at Glastonbury 2016 as the second show. Lighting was designed by Merle McLain who has worked with the band for 23 years.
He was on the road operating the key and conventional lights and also directing and switching seven robo-cams as well as keeping an overview on all-things visual. Running the moving lights was Robin Seefeldt. Lester Cobrin was HSL's project manager on the road, with everything at the warehouse end managed by Sean McGlone.
The lighting design used for this leg of the 2016 tour was based on four trusses - upstage, downstage and two side trusses. The main effects moving lights from HSL were Martin MAC Viper Profiles, rigged in the air upstage and downstage, with more on the floor behind the backline.
Twenty-two MAC 2K XB washes were dotted around the trusses and on the floor. There was a central video wall upstage of the back truss and some smaller LED surfaces stage left and right behind the drums and keyboards respectively.
Source Four profiles on the front truss provided the key lighting, and 2K fresnels on the front truss, five were used to make a basic stage wash, with two reserved as audience fillers for camera shots into the crowd, together with some 2-lite Moles.
Joining Merle McLain and Robin Seefeldt were HSL crew chief Andy "Paris" Hilton, Dave Bunn and Rik Foreman. Seefeldt ran the moving lights from a GrandMA2 full size console. She's been working with McLain on Earth Wind & Fire for the last two years, taking over from the previous moving light operator Jess Baker who'd been in the role for around twelve years.
Her console also triggered the ArKaos media server running the playback video content and she called - on this tour - four follow spots which were Robert Juliat Cyranos from HSL. McLain ran the conventionals from an Avolites Pearl Expert console.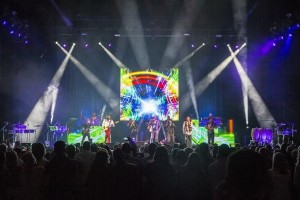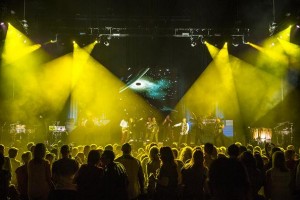 © 1999 - 2020 Entertainment Technology Press Limited News Stories