Aktuelle News & Schlagzeilen
ECOT Graduation Ceremony with Robe fixtures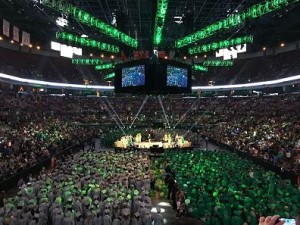 The 2016 annual high school graduation ceremony for the Electronic Classroom of Tomorrow (ECOT) - an online public community school - was staged at the Schottenstein Center in Columbus, Ohio, where around 12,000 people watched more than 1,300 students graduate.
Lighting the event was Zachary Durban, who used 80 x Robe BMFL WashBeams and 28 Pointes supplied by Cincinnati area based Loud and Clear which delivered the event's technical production. Shane Fisher, production and sales manager from Loud and Clear, pitched an initial concept for the ECOT event, which he and Durban jointly developed into the production design for the show.
They imagined a 'sunburst' style look for the trussing above the stage, so 12 trusses radiating out from a central point in the celling were all toned, creating an architectural feature in the center of the venue. This design involved some long throw distances for any moving lights down to the stage below and out into the audience, so Durban and Fisher chose the 80 x BMFL WashBeams which were used to wash the stage and the audience and also to texture both areas on demand.
One Pointe was positioned on the inside of these 12 sunburst trusses and used for toning the metalwork, while the other 14 were positioned on the stage with some on the arena floor. These were all used for aerial effects and as eye/camera candy effects. Working alongside Durban and Fisher on the lighting crew were Chris Sutton (master electrician) and technicians Daniel Baxter and Andy Hillman, with head rigger Gary Radomenski.
(Photos: Kacy Standohar)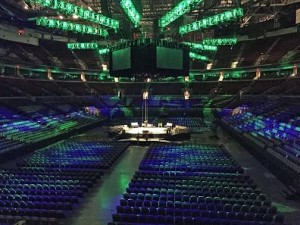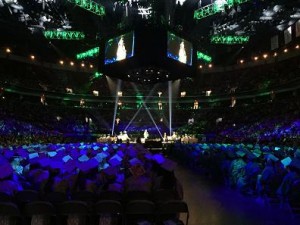 © 1999 - 2020 Entertainment Technology Press Limited News Stories