Aktuelle News & Schlagzeilen
Elation SixBar 1000 available in IP65 version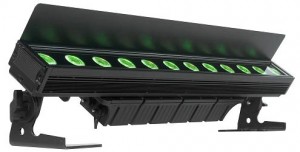 Elation Professional's SixBar 1000 LED batten is now available in a fully weatherproof IP65 version that gives the luminaire application in all types of outdoor events and weather including dust-blown environments. The SixBar 1000 IP features a 6-color LED multi-chip. Useful as a wash light, uplight, wall/cyc wash, accent lighting, direct view pixel strip and more, its single lens RGBWA+UV LEDs offer an expanded palette of colors, including ambers, whites and an ultraviolet effect. It's all protected by a rugged aluminum exterior.
The fixture houses 12x 12 W LEDs and spreads light at a 25° beam angle. Individual LED control allows for greater design possibilities and the fixture is capable of smooth dimming from 0-100%. The SixBar 1000 IP includes variable dimming curves for faster programming, and strobe and chase effects add to its versatility. Included is a removable glare shield and two diffusion filters.
The SixBar 1000 IP measures 33.6" (853 mm) in length and emits 7,149 LUX @ 3.3' (1 m) while consuming 145 W of power. It operates flicker free for use in TV and other broadcast applications and an integrated dual rigging bracket allows it to be either rig mounted or stand on the floor. Multiple units can be linked together for customizable setups and integrated magnetic ends ensure proper line up when putting together rows of units.
The SixBar 1000 IP is controllable via 8 DMX modes (6/7/11/13/36/72/75/79 channels) and the fixture is RDM (Remote Device Management) protocol capable. It features IP-rated DMX in/out connections, as well as PowerCon True1 Power In/Out. A 4-button control panel with LCD menu display makes for navigation through DMX and manual settings and an auto-sensing power supply allows it to operate anywhere in the world.
© 1999 - 2020 Entertainment Technology Press Limited News Stories