Aktuelle News & Schlagzeilen
Nearly 850 Elation LED lights for newly designed EDC Vegas Circuit Grounds Stage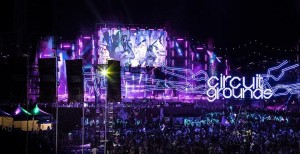 EDM event Electric Daisy Carnival 2016 (EDC) in Las Vegas is America's largest dance music festival. This year, Insomniac Events organized a 20th anniversary celebration that included a newly designed and expanded Circuit Grounds stage lit with a lighting package that incorporated nearly 850 Elation Professional LED luminaires.
Held June 17-19 at the Las Vegas Motor Speedway, the larger Circuit Ground Stage featured a 240,000 square foot arena-style stage with surrounding structures and accommodated twice as many people as previous years. The 360-degree immersive design featured LED screen-topped structures, towers and bridges, along with the lighting and video to support it, the creation of production and lighting designer Steve Lieberman of SJ Lighting.
Hundreds of Elation Professional Colour Chorus 72 LED batten wash lights, Cuepix Blinder WW2 white light blinders and Opti Tri 30 RGB PAR lights were used to enhance the setup during the three-day festival. AG Production Services provided the structure and full technical package for the EDC 20 Circuit Grounds stage, which, because of its increased size, doubled as a second main stage.
292 Colour Chorus 72 batten wash lights were mounted around all of the LED screens, as well as across eight bridges that connected each of eight towers to the main stage. All of the Colour Chorus strips were run in 49 channel mode so that designers could have maximum control and create running effects. Mixed between the Colour Chorus strips and strobe lights around the LED screens were 156 Cuepix Blinder WW2 white light blinders. Used to highlight the truss design and mounted in the 12" truss in the towers and on stage were 398 Elation Opti Tri 30 RGB PAR lights.
(Photos: Adam Kaplan/ASK Media Productions Inc.)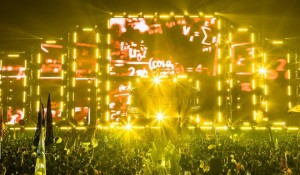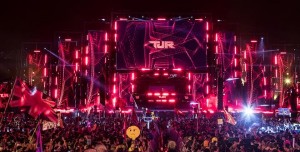 © 1999 - 2020 Entertainment Technology Press Limited News Stories