Aktuelle News & Schlagzeilen
Neuro Tech Asia incorporates first DAS Aero 40A system in China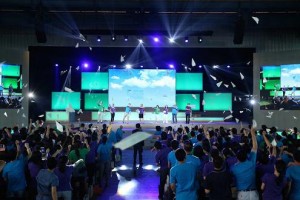 Audio rental and production company Neuro Tech Asia (NTA) has decided to partner up with Chao GanGuan, exclusive distributor of DAS Audio products in China, by expanding its inventory into DAS Audio professional sound solutions. NTA has made a massive investment in DAS systems, including the first full Aero 40A Advanced Line Array System in China.
Neuro Tech Asia has purchased 24 of these powered line array systems which were paired with an additional 16 of the compact Aero 20A. NTA also drew from the Aero Series 2 catalog of products to match the line arrays with 12 LX-218CA.net and eight LX-118A subwoofer systems. To round out its range of DAS Audio systems NTA also acquired two DASnet-Rack 26 and DASnet-Rack 48 amplifier racks along with two of the Spanish manufacturer's DSP-2060A and DSP-4080 digital signal processors.
With international clients including Mercedes-Benz, Rolls Royce, Air France and JP Morgan Chase, Neuro Tech Asia also sought to expand its systems for corporate events by adding a number of DAS Audio's loudspeakers to its inventory. The company invested in 16 Vantec 12A systems along with eight Artec 506A powered two-way systems and four Artec S15A powered subwoofer systems from the brand's Artec 500 Series.
© 1999 - 2020 Entertainment Technology Press Limited News Stories