Aktuelle News & Schlagzeilen
Robe fixtures supplied to Snapsting festival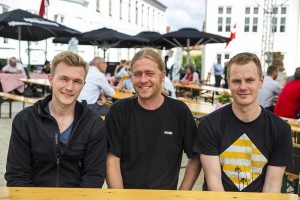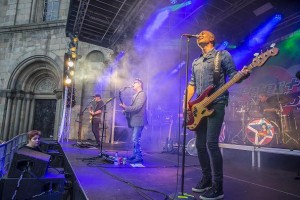 Snapsting is a ten day annual festival, organised by the city of Viborg, Denmark, to bring entertainment, arts, culture, sports, music and fun to its community. The three main entertainment stages this year were equipped with Robe moving lights provided by rental company Lystek, headed by theatre LD Kristoffer Nielsen. Nielsen delivers and co-ordinates full technical production for the event, and Lystek supplies lighting to the entire festival apart from one area.
The main entertainment stage was located in the town square (Domkirkepladsen), and this ran a full band programme for the final three evenings of the festival. Lighting was co-ordinated by Johan Kvartborg, who used 8 x Robe MMX Spots, 12 x LEDBeam 100s and two ColorStrobes and four LEDWash 600s for illuminating the large 'Opera' (Saddlespan) structure that partially covered the audience. All of these were run via wireless DMX.
The ColorStrobes were rigged on the back truss and used to blast out across the audience illuminating the whole area. They also doubled up as wash lights. PAR 64s were used for front/side lighting, with 2-lite moles on the front truss for audience interaction. The overhead rig stayed the same throughout the final weekend as there was no time for any changes or re-rigs, but some bands brought in their floor packages which also had to be incorporated.
Just up the street in another square, the Nytorv Stage was set up. Installed to cover the whole space was a 32 metre diameter circular Skyliner roof system from Dansk Mobilscene, brought in to provide staging solutions site wide. The Nytorv performance stage was smaller and running the lights was Jesper 'Q' Levin. He had eight LEDBeam 100s and 4 x Pointes to play with. Illuminating the Skyliner structure were eight LEDWash 600s. Around some of the other stages, Lystek deployed more Robes: DLS Profiles, more Pointes and LEDBeams.
Kristoffer Nielsen co-ordinated a technical team of 15 for the event, and other suppliers include audio from Dansk Lyd & Lys and Puk Rentals for the main stage; Sound Design, which provided lighting and sound for the DJ stage in another square (Trappetorvet); Dansk Mobilscene for all the structures; and Power Rent from Herning who co-ordinated site wide power and power distribution.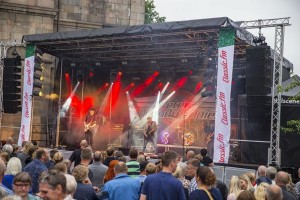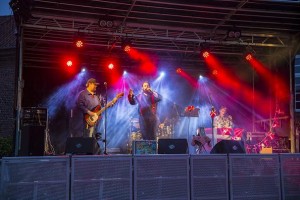 © 1999 - 2020 Entertainment Technology Press Limited News Stories