Aktuelle News & Schlagzeilen
Robe supports EDC Las Vegas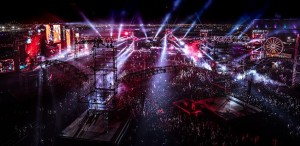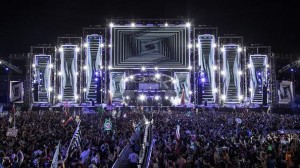 At the 2016 Electric Daisy Carnival (EDC) in Las Vegas nearly 350 Robe fixtures - 212 Pointes, 83 x BMFL Spots and 38 x BMFL WashBeams - were used for Steve Lieberman's design for the Circuit Grounds Stage. Lieberman and the team from SJ Lighting presented a new visual concept that incorporated lighting, video and set/structural design. The architecture was based on a 360 degree coliseum look.
With an arena width of 470 feet, the stage measured 250 feet wide with headroom/heights of between 80 and 100 feet at different points. The space was comprised of a series of geometric bridges and towers constructed from trussing and custom metalwork, supplied - along with the full technical package - by AG Production Services.
The intricate superstructure also provided positions for rigging the lights. The bridges were built from roof trussing, so fixtures were hung along the bottom rails, whilst on the towers, lights were hung on out-rigged pipes. Most of the surfaces were clad in LED video panels. The Pointes and BMFLs were dotted all over the set. The Pointes were Lieberman's main in-air texturing fixture, creating all the big, bold multi-beam and effect looks. With 212 of them, there was plenty of headroom for eye-candy.
Lieberman programmed and operated lighting for many of the shows himself, working closely with his FOH team of Benjamin Rehm and Maxwell Robin who also took care of running the pre-visualization suite and helped accommodate guest LDs working with their various artists all of whom utilized the rig for a number of sets.
Lieberman's biggest challenge at EDC Las Vegas this year was dealing with the scale and size of the production design and the amount of kit involved, which totaled around 1700 fixtures including strobes, LED sources and specials and over 100 DMX controlled-universes.
Robe moving lights were also integral to the Cosmic Meadow Stage, specified by Andre Beekmans of Netherlands-based The Art of Light who created the visual design for this space, using 33 BMFL WashBeams which were supplied by Solotech.
(Photos: Adam Kaplan)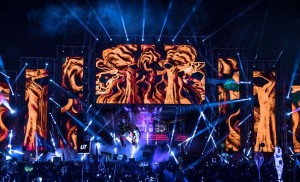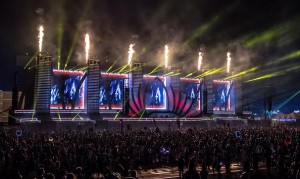 © 1999 - 2020 Entertainment Technology Press Limited News Stories