Aktuelle News & Schlagzeilen
WI Creations cooperates with Massive Attack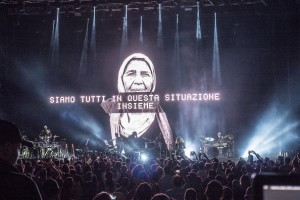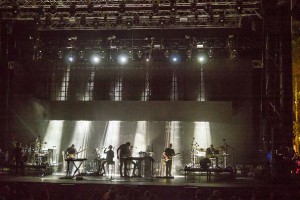 WI Creations was asked to create an innovative solution for the current Massive Attack tour. The video design, created by United Visual Artists (UVA), needed a full horizontal section in the middle of a 14.4 metre wide by 6 metre high flown Roe MC7 LED screen to protrude from the rest of the surface by half a metre. This was to make specific text statements, facts and figures being displayed really stand out.
PRG XL Video project managers Phil Mercer and James Morden contacted WI to ask if they could find a practical and tourable solution for this requirement. Led by project manager Koen Peeters, the Belgian based WI team came up with a design for adapting PRG's existing LED screen touring frames - samples of which were sent over for them to work on.
The main parts of the screen are constructed from MC7T screen which is transparent, allowing lighting effects to bleed and blast through from behind, while the raised 'letterbox' section is made from MC7NT which is solid. The strip is 10 panels wide by 1.2 metres high and the lines of content appearing on it resemble redacted text from government documents. The letterbox can also be dramatically outlined with MAC Vipers shooting through from behind and appear as a sculptural monolith.
WI designed and fabricated internal sub-frames with additional hinging that attach to the front via special conical connection pieces and cantilevering at the back of the touring frames to keep the balance. The hinges are made out of aluminium, and they fold down flat and are stored and travel in the existing LED touring frame dollies.
Icarus Wilson-Wright is video director on the road with the band. Lighting is designed by Paul Normandale and being operated on the road by Hunter Firth. Video content was also produced by UVA. Peter van der Velde is the production manager, and tour manager is Shaun Martin.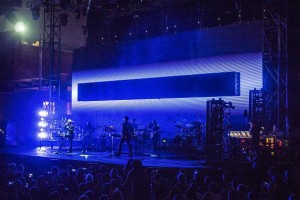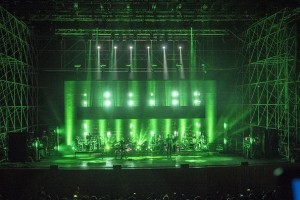 © 1999 - 2020 Entertainment Technology Press Limited News Stories