Aktuelle News & Schlagzeilen
Worx Audio sound reinforcement system installed at New Stanton United Methodist Church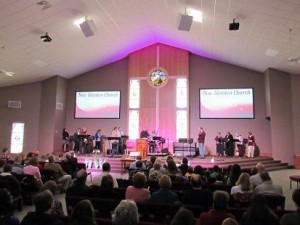 New Stanton United Methodist Church invested in a sound reinforcement (SR) system drawn from the catalog of Worx Audio Technologies. Good Sounds of New Stanton, PA, an AV integration firm that specializes in designing and installing sound, video, and lighting systems for commercial spaces, schools, and houses of worship, was contracted to design and deploy the new SR system.
Good Sounds' owner Dwight Brown, who is CTS certified and serves as the company's principal system designer, specified two Worx Audio TrueLine series X3i-P/D powered, Dante-enabled, line array systems. "The sanctuary is 100 feet wide and 70 feet deep with a seating capacity of 468 people. The ceiling height is 28 feet and the stage faces into the width of the room. Seating is moveable," Brown explains. "This arrangement necessitated a sound system with wide horizontal dispersion to ensure even coverage throughout the space."
In terms of deployment, Brown and the Good Sounds crew flew one Worx Audio X3i-P/D line array enclosure each over the left and right sides of the stage area using Worx Audio's TrueRig beam clamps and X-minibeam-3 rigging hardware. These enclosures reside approximately 10 feet on either side of center and are suspended at a height of 22 feet, positioned even with the front edge of the stage.
Each X3i-P/D enclosure incorporates three medium format 1-inch exit compression drivers coupled to a stabilized proprietary FlatWave Former. Six 8-inch cone transducers coupled to the Acoustic Integrating Module (AIM) minimize comb filtering throughout the operating range. Power is supplied via the Worx Audio PDA series amplifier modules, which offer integrated DSP and SL Room Control software in addition to Dante audio networking capability.
© 1999 - 2020 Entertainment Technology Press Limited News Stories