Aktuelle News & Schlagzeilen
Adlib installs Coda to Liverpool Philharmonic Music Room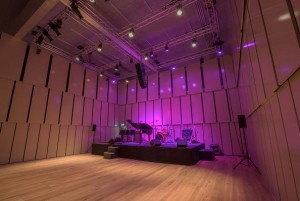 Adlib has supplied a Coda TiRay sound system to Liverpool Philharmonic's new venue, Music Room, a flexible space accommodating between 160 to 250 people depending on a cabaret, theatre or standing configuration. The venue, which opened in October 2015, has been built as part of the £14.5 million refurbishment of the 1939 Grade II listed Liverpool Philharmonic Hall.
Liverpool Philharmonic is home of the Royal Liverpool Philharmonic Orchestra, presenting more than 250 concerts and events annually, and delivering over 3,000 music education sessions each year for communities throughout Liverpool.
Adlib has been involved with supplying equipment and technical expertise to the in-house Production Team at Liverpool Philharmonic for a number of years. Adlib designed and installed a Coda ViRay system for the 1700 capacity main auditorium. For Music Room, Liverpool Philharmonic required a sonic solution that could be quickly and simply installed; that utilized existing infrastructure provided by capital development investment in the main auditorium and which included racks, patch bays, facility panels and trussing.
Adlib supplied six Coda TiRay loudspeakers and two Coda TiLow bass extension elements. The loudspeakers may be rigged as a single centre hang or split as conventional left and right stereo hangs. Either flown configuration may be augmented with additional Coda G18 subs.
Two Coda Hops8I speakers may be used as near-stage fills and can also be wall-mounted at each side of the room. The amplifiers are Coda Linus10-C and Linus5-Cs all controlled via Linus-Live software. These are pre-programmed with a series of parameters for different set ups.
(Photo: Mark McNulty)
© 1999 - 2019 Entertainment Technology Press Limited News Stories