Aktuelle News & Schlagzeilen
Miranda Lambert on tour with Robe fixtures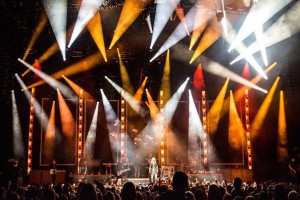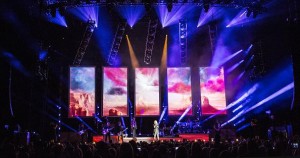 U.S. singer/songwriter Miranda Lambert is currently touring North America on her "Keeper of the Flame" tour, featuring 27 x Robe BMFLs - 19 Spots and 8 Blades - part of a new lighting design by Minneapolis-based Paul "Arlo" Guthrie, his first for the artist.
Lambert wanted a clean stage look with a "mild" touch of retro/vintage and some "subtle visual clues from classic theatres" and she didn't want an overwhelming or dominating video presence onstage. Instead, Guthrie's design includes five wood-framed columns of LED screens alternated with six bent-wood lighting towers on floor bases. Above this are five upstage/downstage trussing "fingers" and two standard straight trusses. The playback video content was created by Empirical Studio.
The lighting fingers and the video columns also all move up and down on a Kinesys automation system, changing the shape and architecture of the space. The BMFL Spots are positioned on the lighting fingers and on the mid and upstage trusses and used extensively for side, back and key light. Two of the BMFL Spots are utilized as the upstage follow-spots.
Guthrie programmed the show with Taylor Pierce who is out on the road as lighting director, with the equipment supplied by Upstaging. The tour currently is scheduled to continue until mid-September in the U.S., with production being managed by Erik Leighty and live video direction by John "DeathRay" Clark.
(Photos: Paul Guthrie)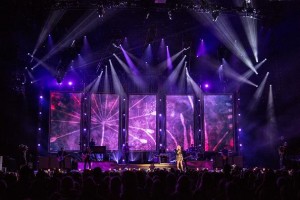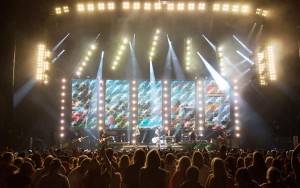 © 1999 - 2020 Entertainment Technology Press Limited News Stories