Aktuelle News & Schlagzeilen
Robe BMFLs illuminate Basel Tattoo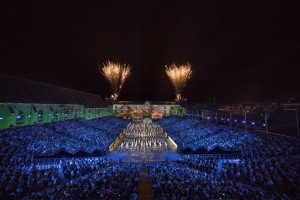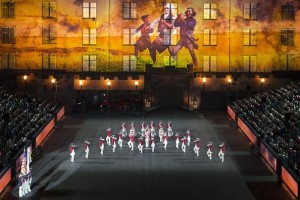 Seventy Robe BMFL moving lights - 48 BMFL Blades and 22 x BMFL WashBeams - were used on the 2017 Basel Tattoo, which was staged for a week in a temporary structure erected in front of the Kaserne (former military barracks) in the centre of the city in northwest Switzerland.
The BMFLs were part of a lighting scheme by Rolf Derrer for the week long Tattoo which featured ten shows and capacity audiences of 7500 for each one. Working closely with Derrer was programmer and his right hand person Reto Engler, who has worked on the event since 2013. The BMFLs were supplied by Winkler Multimedia Events AG from Wohlen together with the rest of the lighting kit and the full technical production.
Left and right of the field-of-play were two MiTrix video screens and the front of the Kaserne building was mapped with large format projections, 66 metres wide by 11 metres high, fed by six Panasonic 31K machines. Derrer and Engler had to ensure that lighting was kept away from the projection on one hand, while it also had to hold its own against the brightness and ambient lighting emitted by the LED screens.
Each side of the performance space three Layher lighting towers were installed and most of the 48 x BMFL Blades were rigged on these. At the front of the parade ground, all the BMFL WashBeams were positioned on trusses at the back of the seating platforms, together with a few BMFL Blades. The fixtures were all used to illuminate the field-of-play and for key lighting some of the acts. The BMFLs on the side towers were used for side lighting and to create gobo patterning on the floor.
Reto Engler, Rolf Derrer and Winkler's technical director Roni Huber - as the second lighting operator - programmed the show over four overnight sessions, working closely with media server programmer Michael Kuhn who was dealing with all the video content playback.
(Photos: Pressebilder.ch)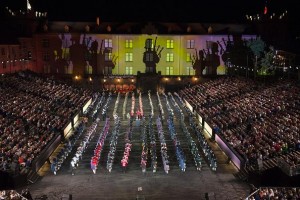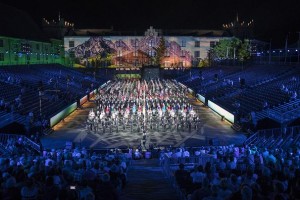 © 1999 - 2018 Entertainment Technology Press Limited News Stories