Aktuelle News & Schlagzeilen
State Fair of Texas features various Elation fixtures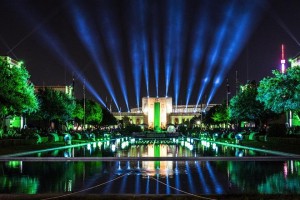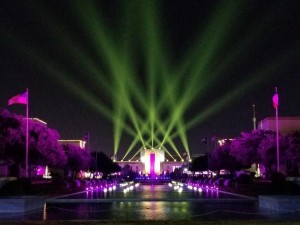 For the State Fair of Texas, which this year ran from Sept. 29th through Oct. 22nd in Dallas, Lighting designer Nick Belley and show producers Interlaced Productions used Elation Professional's IP65-rated Proteus series moving heads, along with other Elation gear.
Set to music celebrating Texas heritage and American pride, the Mattress Firm "Illumination Sensation" show incorporated dancers, fountains, an array of lights, projection-mapped buildings and fireworks. Roughly twenty minutes long, the show took place each night of the fair at the Fair Park Esplanade fountain, which stretches over two football fields long with a stage in the middle.
This year's show was expanded to include lighting of the historic Hall of State building, which sits at the end of the Esplanade, making the rig about 400 yards end to end. The Proteus Beams were used to reproduce a historical look. Eleven fixtures were spread out on the roof of the Hall of State building and used to shine an array of beams in a moving canopy of light.
Although everything associated with the show - fountain, lighting, pyro, video, projection and sound playback - was run on timecode, Nick Belley says that control was a challenge as the control center was 600 yards away from the Hall of State building with no way to run a cable between the control center and the roof due to heavy foot and vehicle traffic on the fairgrounds. "We came up with the solution to use an EnGenius long range outdoor wireless bridge to transmit Art-Net from our control center to the roof, creating a network with no latency across the Esplanade."
Mounted atop buildings flanking the Esplanade fountain were four Proteus Hybrid moving heads. Pointed downward towards the stage, the fixtures were primarily used in spot mode to light the stage portion of the show in color and pattern. The Proteus fixtures were part of a large effects package that also included Elation Platinum Beam 5R, Platinum Beam 5R Extreme and Satura Profile moving heads in weatherproof enclosures, as well as other effect lighting.
Used for color and beam effects, 12 Platinum Beam 5R and Extreme version fixtures were placed on the roofs of the Automobile and Centennial Hall buildings for aerial effects, with eight fixtures on each corner of the octagonal stage also for aerial effects. Eight Satura Profiles were placed around the stage to light the performers during the show and then repositioned after the show to light the trees around the fountain until the fair closed each night. Production and lighting supply for the "Illumination Sensation" show was by Dallas-based event solutions company Onstage Systems.
(Photos: Interlaced Productions)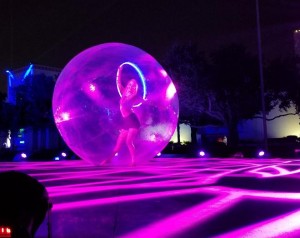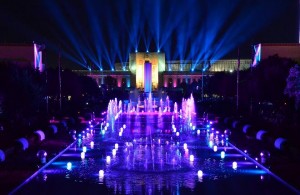 © 1999 - 2018 Entertainment Technology Press Limited News Stories