Aktuelle News & Schlagzeilen
HSL supplies lighting equipment for Sigma show at Royal Albert Hall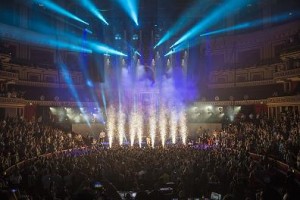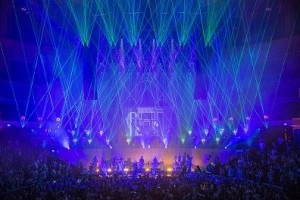 UK d'n'b duo Sigma became the first drum and bass act - complete with full band - to play London's Royal Albert Hall. Creating a special visuallity for this gig was show designer Andy Hurst. He used a combination of lighting equipment supplied by Blackburn rental company HSL and the in-house rig, and worked alongside a crew of three from HSL (Andy Skirrow, Callum Humphries, and Jon Young). Lasers were delivered by ER; LED screens, cameras and projection were from Video Illusions and BPM supplied the pyro.
Hurst chose to highlight the venue's organ and map it with lasers. He also decided to wrap the front of the choir stalls and the whole of the upstage area with 6 mm LED in a 24 metre wide by 2.7 metre high surface. Because of the letterbox dimension, they had some custom content made by Comix. Four production trusses were utilised and HSL supplied an additional 18 x Robe BMFL Spot moving lights, which combined with the 12 in-house ones gave a total of 30 at Hurst's disposal.
48 x Robe Pointes were dotted on the overhead trusses and arranged in two arcs, one at deck level and one on the floor of the lower set of choir stalls. Eleven Robe CycFX 8s were positioned along the riser fronts and 38 x GLP X4 LED washes were rigged on the trusses - for general stage wash coverage - with one row alternating in between the choir stalls level arc of Pointes.
Nine Nitro strobes at floor level were also used. The flown rig was taken out to its highest trim height to enable fans to see as much of the organ as possible and when the overhead LED washes were fully throwing forwards, they emitted some secondary lumens incidentally catching the venue's famous roof mushrooms.
To extend the stage space widthways, Andy Hurst chose 26 x PATT 2013s from HSL, which were mounted on a combination of stands located on three levels - the stage and two sets of choir stalls. Hurst seized the opportunity to use 98 of ER's new Kinekt 3.5 Watt DMX controllable laser units which were all mounted on drop-arms rigged off the four trusses.
Meanwhile the organ was mapped with six 15 watt standard coloured lasers positioned stage right and left. Hurst decided against follow spots, instead using four Robe DL7F fresnels from the house rig to make up a front wash for Sigma's various guest singers and artists.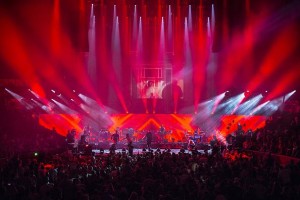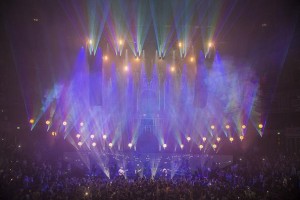 © 1999 - 2018 Entertainment Technology Press Limited News Stories