Aktuelle News & Schlagzeilen
K3 on tour with new lighting and video design by Painting with Light's Luc Peumans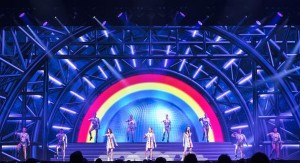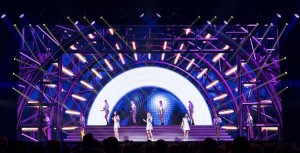 Belgian/Dutch girlband K3 are on the road for an extensive live schedule through 2017, with a new lighting and video design originated by Luc Peumans of Painting with Light. Painting with Light has worked with K3 for the last fifteen years. The band is managed by Studio 100 and the staging concept for this tour was developed by Stefaan Haudenhuyse, with Painting with Light being asked to create the touring production design.
This involved translating Haudenhuyse's initial mood boards into a tourable technical production scenario, achieved in conjunction with equipment vendors PRG Belgium who also co-ordinated the show's automation elements. As with all K3 live shows, there is a story which plays out on screen in the video content as well as with the action onstage.
Painting with Light worked with Jos Claesen to create the video content. Claesen created all the 3D worlds for this show, taking Haudenhuyse's visuals as a starting point. The LED video screens are vital to create the different planets and experiences, starting with a 16 metre wide by 7 metre high 6 mm surface upstage that opens in the middle for the entrance/exit of K3's space ship. This is supported by a 20 metre wide, 9 metre high show portal, positioned four metres downstage and made up from the same LED surfaces.
A set of wide show-stairs is also being used, fronted with 10 mm Barco O-lite LED, custom built by PRG Belgium, which connect the upper and lower sections of the stage. Some parts of the opening scene resemble a 3D model of the show, complete with virtual (digital) trusses and lighting effects which are scaled and fitted to match the real stage dimensions. The video footage can be tweaked via three Christie Pandora's Box media servers.
It was the first opportunity for Painting with Light to utilise the new PRG Icon Edge hybrid moving light fixture, a spot, beam and wash unit in one housing. These are augmented with 36 x Claypaky A.leda K20s fitted with B-Eye lenses running in wide mode for full pixel control. Sixteen Martin MAC Viper Profiles on the front truss take care of all the key lighting for K3 and their dancers, and 24 x Chauvet Strike 1 LED blinders on the front truss blast boldly out into the audience in combination with strobes. Completing the lighting picture are 16 x GLP Impression X4 LED washes for side lighting and three follow spots - Robert Juliat Victors - for the three girls.
All lighting is controlled from a GrandMA2 console programmed and operated for the show by Jeroen Opsteyn, with the media servers programmed and operated by Katleen Selleslagh, both from Painting with Light.
(Photos: Frank Lambrechts/Luk Monsaert)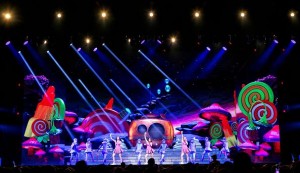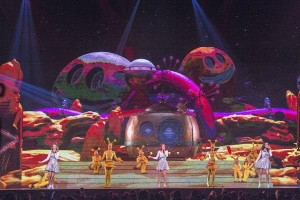 © 1999 - 2018 Entertainment Technology Press Limited News Stories