Aktuelle News & Schlagzeilen
Maestra supplies sound, lighting and video to Cannes Film Festival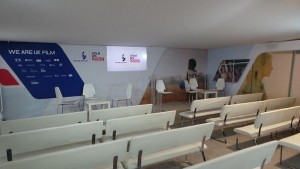 Event technical production specialist Maestra Group, working for Premier PR, supplied full sound, lighting and video/AV infrastructure to the UK Film Centre at the 2017 Cannes Film Festival. Located right on the beach, Pavilion 119 featured meetings, seminars, talent talks, special screenings and film related activities. It was a meeting place and networking environment for film producers, directors and actors as well as potential investors and a hub for all the UK film contingents involved with works being presented at the festival.
It's the second year for which Maestra has facilitated the technical elements. The Pavilion was part of the International Village and featured a main conference/presentation space, breakout areas and an outdoor terrace with a bar. The sound system was a white D&B E3, its speakers were dotted around the main conference space and divided into five different zones, all of which could be individually controlled via a Yamaha QL1 console.
A selection of different sized LED and plasma screens were supplied for the main area, where they were inbuilt into the set, plus four of the break-outs including the partners room and for behind the reception desk. These enabled camera and audio relay into all these areas so they could be utilized for overspill audience attending the most popular talks and presentations.
The screens were in use constantly, showing a host of different content in addition to the camera feeds for which Maestra supplied a raft of laptops. Maestra co-ordinated all the video content on site. Two robo-cams were part of the package for the main space, operated from the technical booth; set up so selected footage could be quickly edited and uploaded to the weareukfilm.com website for on-demand viewing. The video switcher was one of Maestra's new Analog Way NeXtage devices.
All the events were either recorded/edited or streamed live. White Robe LEDBeam 100s were fitted with diffusing lenses and fixed securely to the walls. An LED solution for lighting was proposed because of the low heat emission in an already warm marquee. The LEDBeam 100s were used as static white light during the day and then in the evening as the atmosphere became more loungey, or if there was a party, they could provide colour, movement, and effects.
Twenty-four Core ColourPoint LED up-lighters were also at the ready for rapid deployment as the space transformed into its evening ambience, complete with bar and tray service. The Maestra team was led on site by Carlos Marcus.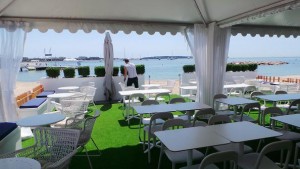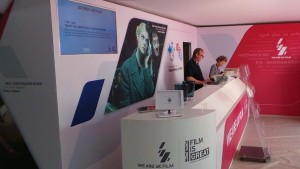 © 1999 - 2018 Entertainment Technology Press Limited News Stories