Aktuelle News & Schlagzeilen
Painting with Light illuminates Schlagerfestival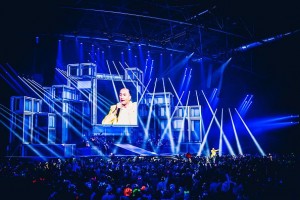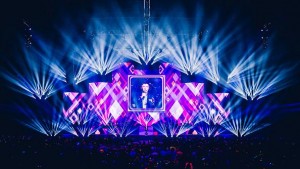 Creative design practise Painting with Light decided on a contemporary, slightly urban stage presentation for the 2017 Schlagerfestival produced by PSE Belgium and Medialaan which comprised five sold-out shows at the 21,000 capacity Ethias Arena in Hasselt, Belgium.
Luc Peumans was production designer, Paco Mispelters was lighting director with Michael Al Far co-ordinating the playback video elements along with content designer Sina Sohn. All combined their ideas to present show director Luc Koenen with various settings to deliver a three hour performance spectacle featuring 42 different schlager artists.
The team decided early on to go with a digital set that could be 3D mapped and energised with a variety of different video and media content. "This was easily the most flexible and dynamic solution," Peumans explains, "it built on last year's aesthetic of a trussing structure with embedded LED panels which we also mapped, so this was an extension of the same philosophy".
In total the set comprised 575 square metres of LED, with a 7 x 7 metre central 10 mm screen upstage, surrounded by a 30 metre wide series of columns set at right angles to one another for the full 3D experience. This gave the show its basic cityscape backdrop, and with the content applied, it was transformed into a host of different environments.
All the video material was created especially for the 2017 Schlagefest and stored on one of Painting with Light's D3 4x4 pro media servers, programmed and operated by Jo Pauly. For the opening sequence, the Painting with Light team worked closely with video producer Walter Hillhorst.
As the evening unfolded, different cityscapes were revealed, many with features like billboards, neon signs, etc., which could be changed and related specifically to an artist or their song. Painting with Light's 'virtual' studio in Genk was optimised for the previsualisation of the show.
A runway at 45 degrees to the stage led to a B stage in the middle of the audience. To maintain a separation between lighting and video elements, and also to utilize the full width of the venue and extend the production right out to the edges of the stage, lighting was rigged on several individual truss sections flown in the roof. The primary moving lights were 82 x Robe Pointes.
The Pointes were augmented with 89 x GLP Impression X4 LED washes for all the stage, house and band washing, with eight Martin MAC Viper Performances for specials. Twenty-three MAC Viper Wash DXs were also on the rig.
The audience participation inherent to schlager performance was encouraged by 24 x Chauvet Strike 4 LED blinders, together with SGM Q7 RGBW strobes. A hundred and twenty LED PARs were dotted around for general house lighting and three Robert Juliat Victor follow spots completed the lighting picture.
The GrandMA2 full size console was programmed and operated by Paco Mispelters, with many video cues also triggered via the GM2. Video, lighting and sound equipment was provided by PRG Belgium, led by production manager Walter D'haese.
(Photos: Elke Briers)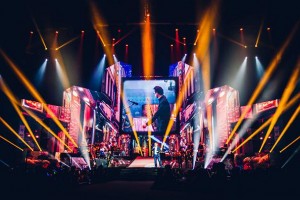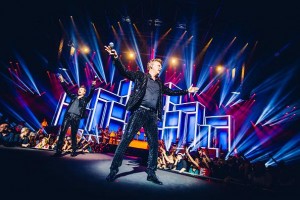 © 1999 - 2018 Entertainment Technology Press Limited News Stories