Aktuelle News & Schlagzeilen
Elation illuminates King of Kings World Grand Prix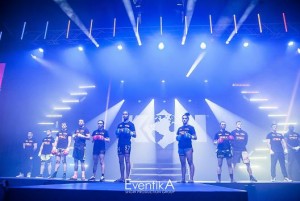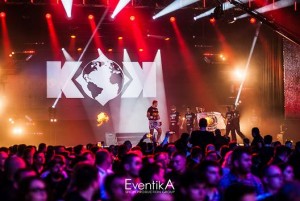 Elation dealer Eventica Grup SRL of Moldova has been a staging and technical contractor of King of Kings (KOK) kickboxing tournaments for years. For past events, Eventica has turned to Elation Platinum SBX hybrid fixtures. For the King of Kings World Grand Prix 46 tournament held April 1st in Moldova, Eventica added Elation's new Fuze Wash Z350 to the line up along with other Elation gear. Lighting design was by Max Cojocari.
The fighter entrance stage, key in the build up to a match, is a large space where anywhere from 18 fighters to a single fighter make their appearance. "We needed to fill the space with dynamic lighting, whether it was for all the fighters together or for just one fighter," states Serghei Buchin of Eventica Grup, who divided their set of 16 Fuze fixtures in half with 8 units located behind the fighters and 8 placed on the front rig.
Eventica Grup SRL provided production and technical support for the World Grand Prix. Buchin again turned to the Platinum SBX with 16 units rigged at the fighters' entrance stage and used for variable beam effects to highlight fighter introductions and energize the room.
Stacked horizontally on each side of the stage's central KOK logo screen were Elation SixBar 1000 LED color-changing battens. The one-meter long multi-purpose LED battens, 12 each side of the stage, were positioned to mimic the angle of the KOK logo and used as backdrop lighting effects to broaden the color scheme across the stage.
As the event was also televised, a variable white light option was needed which Elation Opti Tri White II Par lights stepped in to fill. The lighting rig included other intelligent lights as well and was controlled via a Road Hog 4 with lighting design completed on Capture Atlas lighting design software.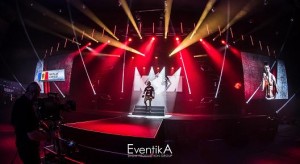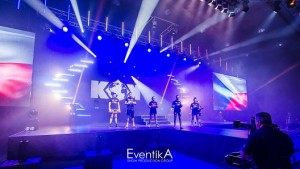 © 1999 - 2019 Entertainment Technology Press Limited News Stories