Aktuelle News & Schlagzeilen
Maestra supports 'Reply Exchange' conference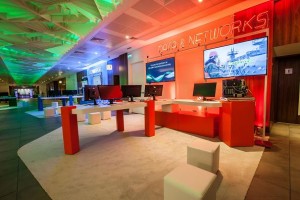 Event production specialist Maestra London delivered a technical package to Gruppo Peroni for the one day conference 'Reply Exchange', working with event producer Toria Richardson. The event was staged by Italian IT company Reply SpA at London's 155 Bishopsgate venue. This comprised a large plenary conference space, three breakout areas and an exhibition section. Maestra worked alongside Firecracker who built the set and staging.
In the main conference area, the house projectors were used, together with one of Maestra's Analog Way Di-VentiX II mixer/scalers which integrate four show laptops to the system, two running Keynote for presentations and two running PlaybackPro for playback video content. The screen surfaces for the projection were part of the set.
A D&B T10 sound system was installed into this space by Maestra, complete with a Yamaha QL5 mixer and a selection of mics for speakers and presenters, all optimised for spoken word and the delivery of some VT playback audio.
The three breakout rooms replicated the main space layout, but on a smaller scale and these all featured smaller T10 PAs and Yamaha QL1 mixers. The exhibition area was divided into five large pods, constructed to illustrate the different areas of work in which Reply engage, with each pod dedicated to specific types of products, accommodating 22 different exhibitors.
For each of the five stands, Maestra provided 55 and 65 inch LED screens and each exhibitor also had their own 27 inch monitor inbuilt into the stand. The individual exhibitors could hook up their own laptops - housed in a purpose built cupboard also part of the stand design - which showed their specific product or promo material.
Maestra supplied a range of switchers and a matrix so footage could appear on the large screens. As much of 155 Bishopsgate's existing lighting was incorporated into the design as possible, with Maestra adding 90 x Core ColourPoint Mk2 battery powered wireless LED uplighters - supplied by Wireless Lighting - which were deployed around the conference spaces, colouring the walls.
Twenty-four of these fixtures grazed up the walls of the main conference space, with 12 in each of the breakout areas and the rest dotted around the venue, adding colour and texture to the 'blank' spaces. Each of the exhibition pods featured a slick neon sign announcing the discipline/field of the content and additional ColourPoint 2s were used to replicate the colour and feel of these signs around the individual pods. The fixtures were run in master/slave mode for quick and easy tweaking of colours as and when needed.
Maestra's team was led by project manager Jack Jury who was joined by 12 crew from Maestra for the task, which had a two day build period, one show day and then out that same evening.
(Photos: Two By Two Video)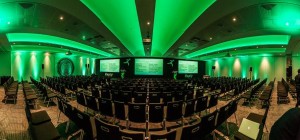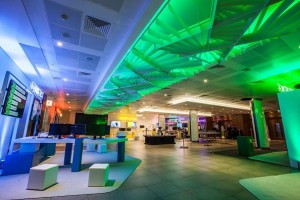 © 1999 - 2018 Entertainment Technology Press Limited News Stories