Aktuelle News & Schlagzeilen
Robe BMFLs supplied for Queensferry Crossing opening event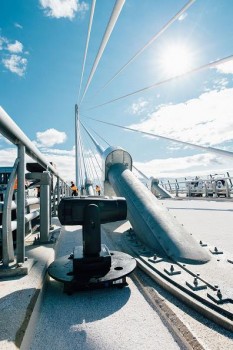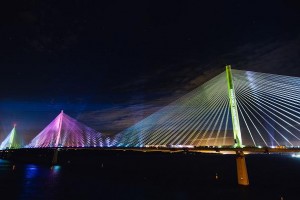 For its opening event, Scotland's Queensferry Crossing - the  world's longest triple towered cable stay bridge (2.7 kilometre long and 207 metres high) - was illuminated by 60 x Robe BMFL Wash Beams, switched on by First Minister of Scotland, Nicola Sturgeon.
The lighting scheme was designed by event production company JMP Productions, specified and supplied by Edinburgh rental and production specialists Black Light. Their project manager Thomas Ramage worked closely with Jon Pugh from JMP and contacts from Speakeasy and Transport Scotland.
The lighting was part of a mixed-media display which also included projection. The 60 x BMFL WashBeams were positioned equidistantly along the central reservation of the Queensferry Crossing. From here they were able to shoot upwards and catch the towers and the intricate geometry of the cable stays.
A sequence of effects were programmed for the reveal moment, ranging from beams blasting over to the Forth Road bridge and original Forth (railway) Bridge - which also traverse the water - to washes and texturing on the Queensferry Crossing cable work. Projections (from positions on the Forth Road Bridge and the shore at Queensferry) were beamed onto the northern most of the three commanding 679 ft. high towers and underdeck supports which included text and abstract images.
The system was programmed by John Rogers and controlled from a pair of Avolites Quartz consoles run via Titan Net and a dual redundancy fibre network utilising Luminex network switches which was installed for the hand-over event. For the build and the one evening programming session, this was located on the Forth Road Bridge running via a wireless link.
The BMFLs had to be programmed in batches of 10 on that programming night. For the show itself, lighting control moved into the centre of all the fixtures on the Queensferry Crossing where they ran Capture visualisations of the show as it was impossible to physically see the effect of the lighting across the bridge from there.
(Photos: Ryan Buchanan)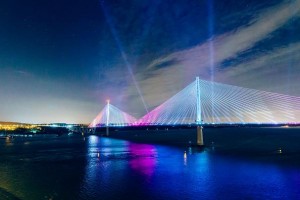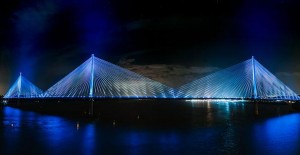 © 1999 - 2018 Entertainment Technology Press Limited News Stories