Aktuelle News & Schlagzeilen
Robe fixtures installed at Detroit's new Little Caesars Arena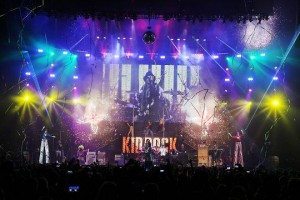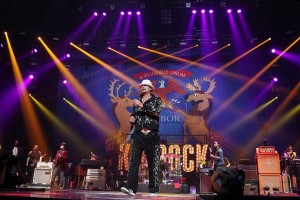 The new Little Caesar's Arena in midtown Detroit is a 15-22,000 capacity multipurpose venue and home to the NHL's Detroit Red Wings and the NBA's Detroit Pistons. The venue will also be used for a wide range of concerts and events. Robe's BMFL Blades and BMFL WashBeams were specified as a major element of the house lighting rig by Eric Wade at Crossfade Design LLC who was part of the venue's project leadership team and designer of theatrical lighting and video projection.
He and his Crosssfade Design team - Jason Robinson, Michael Nevitt and John Early - also coordinated the installation and programming of the new lights, and will be brought in to assist with projects, working alongside the venue's producer and director of events, Pete Skorich.
With long throw distances involved (100-200 ft.), Eric Wade and his colleagues chose 36 x Robe BMFL Blades and 24 x BMFL WashBeams, together with other lights. They also chose Anolis ArcDots, 450 of which are mounted on the tensioned wire grid covering 80% of the ceiling and combine with 1,700 LED strips.
The BMFLs Blades are around the perimeter of the ice (for the ice hockey events), with the BMFL WashBeams rigged in the high corners of the building, all trimmed at around 100 ft. above the floor. The Arena's moving lights are used for all the Pistons and Red Wings games and for other sporting events like WWE, where they are added to the visiting production rig.
The new venue and its lighting installation has already benefitted several events including six 'homecoming' concerts by rapper Kid Rock. His lighting and visual designer Nook Schoenfeld incorporated the house BMFLs into their lighting rig. Eric Wade visited rental company Upstaging with Nook Schoenfeld ahead of the Kid Rock shows and they programmed the lighting building blocks together.
Schoenfeld added 17 x Robe Pointes to his own production lighting rig that were supplied by Upstaging. His budget had to include all the visual effects - lighting, video, lasers and pyro - so he made a decision for these shows to choose a fixture without CMY color mixing so they could slice through pyro and lasers when needed. Pointe was his "beam light of preference," as he states.
(Photos: Todd Kaplan)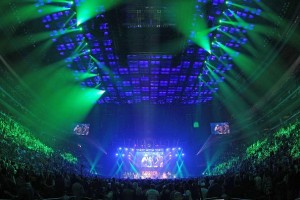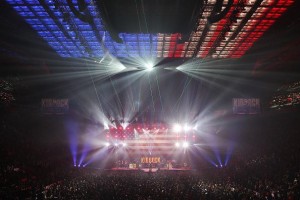 © 1999 - 2018 Entertainment Technology Press Limited News Stories