Aktuelle News & Schlagzeilen
Heritage expands Elite Series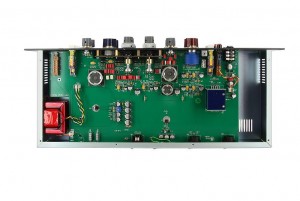 Heritage Audio announces availability of its HA-73 EQX2 dual mic amp/equalizer. Following in the footsteps of its single-channel predecessor (HA-73 EQ), the HA-73 EQX2 is equipped with two mic pre/equalizers in the same rack unit, as the latest addition to the Elite Series.
Employing three correct-vintage 'Vinkor' pot core inductors, the HA-73 EQX2's EQ curves are almost indistinguishable from the handmade equalizers in Heritage Audio's product line so customers can expect the same sonic quality from the company.
The HA-73 EQX2's preamp section features gain, output trim, -20 dB PAD, polarity reverse, a high pass filter, and +48 V phantom power while its EQ section features a high shelving EQ, midrange EQ, low shelving EQ, a variable high pass filter, and EQ bypass. The dual mic amp/equalizer itself is housed in a rugged, 2RU British steel and aluminium chassis and utilises an external power supply for facilitating low-noise operation.
© 1999 - 2018 Entertainment Technology Press Limited News Stories