Aktuelle News & Schlagzeilen
44 Designs uses Elation Artiste DaVinci for Mutemath tour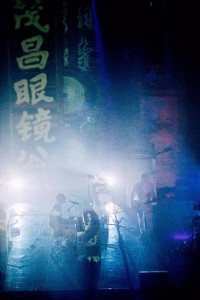 For American band Mutemath's "Play Dead" U.S. tour last fall, production design company 44 Designs used color and effects from Elation Professional's Artiste DaVinci LED moving spot luminaire. Jeff Lavallee, owner and lead designer at 44 Designs, who has been working with Mutemath for over a decade, had at his disposal a full CMY color mixing system (plus seven additional colors) plus a range of graphical effects from two gobo wheels and a 360° bi-directional animation effect wheel.
The effects could then be multiplied using either of two rotating prisms. Twelve of the zoomable DaVinci fixtures were used on the show, four placed on either side of the stage on custom brackets and used as side light with four located upstage for mid-air beam looks.
For "Nothing But Christmas" shows in December at The Creek Church in London, Kentucky, the DaVincis worked alongside other Elation lighting gear, including Platinum Beam 5R Pro moving heads and Sniper 2R multi-effect lights. Clayton Thornton, 44 Designs' Chief Operations Officer, also took the opportunity to propose to his future wife on stage.
© 1999 - 2019 Entertainment Technology Press Limited News Stories