Aktuelle News & Schlagzeilen
Zero 88 FLX Range launches astro balloon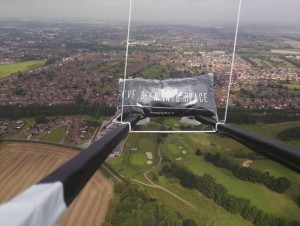 A Zero 88 FLX S24 console was utilised to launch a high altitude balloon into near space - reaching the stratosphere at around 30 kilometres - complete with an FLX S Range T-shirt as part of the payload.
The plan was conceived by Zero-88's team of product specialist Jon Hole, Tyler Holpin from international sales and product support engineer Edward Smith, in collaboration with high altitude balloon activist and theatre technician Stevie Partington at the 2017 National Student Drama Festival (NSDF) in Hull.
Partington is a teacher in Music and Computing at Worksop College in Nottinghamshire, which was used as the launch site location. The team assembled the 'payload' package, including a Raspberry Pie PCB encased in polystyrene which fed back information such as location, velocity, altitude and temperature, allowing the balloon's path and flying conditions to be tracked and monitored. A small video camera to record the flight was installed together with the descent parachute.
The FLX S Range T-shirt was attached to a pair of outriggers and placed within camera shot for the journey. The balloon was then filled with helium to about 30% capacity to initiate the launch, and released via an electric kabuki relay triggered by the FLX S24 console.
The balloon reached the 30 Km mark in 1.45 hours. By this time the helium capacity had expanded to 100%, so the balloon burst. The payload and attachments started a freefall drop back to earth, and as it re-entered the earth's atmosphere, the parachute started filling and slowing the descent, which took around an hour and 15 minutes.
The team followed the tracking software to find out where it landed and retrieved the device and associated bits including the space travelled FLX S Range T-Shirt. The eventual touch-down was near the town of Nettleton, Lincolnshire, 44 miles away from the Launchpad. The astro FLX S Range T-Shirt was offered as a competition prize via Zero 88's social media channels.
© 1999 - 2019 Entertainment Technology Press Limited News Stories