Aktuelle News & Schlagzeilen
Showcore specifies Elation LED lighting for Minnesota's Target Center arena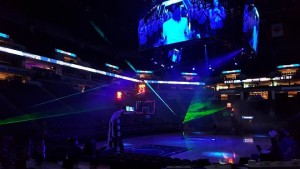 Since 2015, event production company Showcore has been providing Elation Professional lighting to the Target Center in Minneapolis, Minnesota, a multi-purpose sports facility (home to the NBA's Minnesota Timberwolves and the WNBA's Minnesota Lynx) that recently underwent a $130 million renovation.
Showcore added Elation Paladin hybrid LED strobe/blinder/wash lights and compact Rayzor 360Z LED beam moving effects to the arena lighting rig to complement other Elation lights installed in 2015 and 2016, namely Arena Par Zoom and SixPar 300 LED Par lights, Rayzor Q12 LED moving heads, Protron 3K LED strobes and Cuepix WW2 LED blinder/strip lights.
In 2016, as part of the arena renovation, the Target Center installed a large Daktronics scoreboard and the majority of the new lighting is installed on or near it at trim heights that can exceed 100 feet. A pair of Paladin hybrid LED luminaires that can be used as a wash light, strobe or blinder operate from stick trusses on each side of the scoreboard with two additional Paladins mounted on adjacent catwalks. The Paladins are used to color match with 12 neighboring Elation SixPar 300s.
Working from a halo truss at a height of 90-100 feet at the bottom of the scoreboard is eight Rayzor 360Z, compact beam/wash luminaires with three 60 W RGBW LEDs and 5° to 50° zoom. On the lower part of the scoreboard, two Arena Par Zoom RGBW PAR wash lights with zoom are used for specials along with 4 Protron 3K LED strobes and other lighting.
On the bottom of the scoreboard are 20 Cuepix WW2 white light blinders, each with two 100 W warm white COB LED modules. An additional two fixtures are mounted on the catwalk and used to illuminate a flag. During halftime, additional lighting is added to the mix in the form of a light cart with 8 Rayzor Q12 Zoom that is wheeled out onto the court and used for additional beamage and point light.
Showcore specified and supplied the lighting fixtures used in the Target Center and created the lighting looks used at Timberwolves and Lynx home games. Showcore also handles product service and support when needed. The Target Center also hosts other events throughout the year and the lighting rig is used for these events too. Elation product support for Showcore is provided by Elation manufacturer rep firm Five Lakes Marketing.
© 1999 - 2019 Entertainment Technology Press Limited News Stories