Aktuelle News & Schlagzeilen
CCG invests in Robe moving lights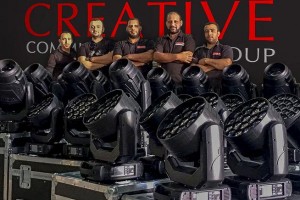 Creative Communication Group (CCG) - a rental, event management and production company based in Doha, Qatar - has made a large commitment to Robe lights with the purchase of new MegaPointes and Spiider moving lights for its rental inventory.
The events CCG produces include large-scale government and cultural shows and festivals. They also organise and deliver executive events and entertainment driven experiential projects for corporate, and private clients, dealing with all technical aspects of event management from lighting, sound, video and rigging to stage and set design.
Photo: CCG Director of Lighting Michel Khairallah, second from the left, surrounded by his team of CCG lighting technicians.
© 1999 - 2019 Entertainment Technology Press Limited News Stories