Aktuelle News & Schlagzeilen
Glassjaw plays Brixton Academy beneath Elation rig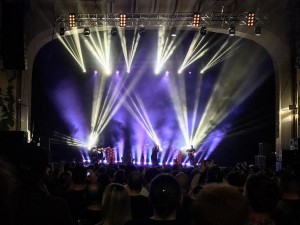 For post-hardcore band Glassjaw's show at London's O2 Academy Brixton in August 2018, lighting designer Hayden Borgars had an Elation lighting rig of 12 Platinum Beam Extreme beam lights and 12 Platinum Wash ZFX Pro LED moving head washes at his disposal.
"With 'Material Control' being Glassjaw's first album in 15 years I wanted my design to be fairly versatile to be able to create some classic looks for the older tracks and then some more modern and fast-paced looks for the newer material," Borgars comments.
"Having the Platinum Wash ZFX's in the overhead rig worked well in being able to produce some zone-based effects and more saturated colors for the tracks from (Glassjaw's new album) 'Material Control' as well as some vibrant and brighter colors for the older tracks," he says. The designer also used the multi-purpose RGBW wash lights for front color wash.
Borgars placed the Platinum Beam 5R Extremes in both the overhead rig and as part of the floor package. "They were able to create a very tight beam which is exactly what I was looking for, especially for the fast-paced songs," he explains. "The 6 Platinum Beams in the floor package were also used for the slow-paced songs with gobos and slow movements." The lighting rig for Glassjaw's O2 Academy Brixton show was supplied by Ian Livie Lighting.
© 1999 - 2019 Entertainment Technology Press Limited News Stories