Aktuelle News & Schlagzeilen
Cadac CDC Five on IBC TV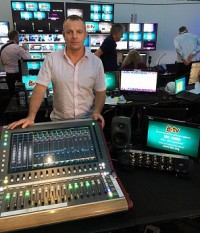 Cadac again provided the audio mixing capabilities for the IBC TV broadcast studio at this year's convention. The CDC Five handled the audio duties for the studio.
The complete Cadac MegaComms 96k/24-bit audio mix setup comprised the 48 input/24 assignable buss console, CDC I/O stagebox and CDC MC MADI bridge. "The use of the MADI bridge enabled quick, easy and stable connectivity to the EVS systems that are at the core of our workflow," says Pete Craigie, IBC TV Sound Supervisor.
Cadac also supplied a MegaComms network for use in the in the Big Screen auditorium, specified by Terry Nelson from IBC Technical Resources, comprising a CDC MC Router, multiple stage boxes, CDC Seven-s and CDC Six mixing consoles, and a CDC MC Dante bridge. Phil Crisswell mixed FOH with the CDC Six in the auditorium. A further CDC Six and I/O stage box was supplied for use in the Emerald Room conference facility.
Pictured: Pete Craigie.
© 1999 - 2020 Entertainment Technology Press Limited News Stories