Aktuelle News & Schlagzeilen
Elite Event Technology selects Robe for Naidoc Awards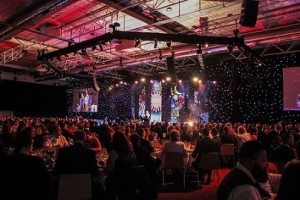 Elite Event Technology from Canberra, Australia, supplied lighting equipment and crew for the 2019 Naidoc Awards which celebrated the history, culture and outstanding achievements of Australian Aboriginal and Torres Strait Islander peoples.
The event featured a mix of live performance and awards presentations and was hosted by media personalities Sean Choolburra and Elaine Crombie at the National Convention Centre Canberra in front of a live audience of 1,200 and broadcast live on SBS's NITV channel.
The lighting design by Tom Wright featured an all-Robe moving light rig with 12 x BMFL Spots, 12 x BMFL WashBeams, 26 x LEDWash 300+'s, 12 x LED Wash600s and 14 x MMX Spots. It was the first time that Elite had been a technical supplier, working for main event producers 33Creative and 38Ten who coordinated all the technical direction.
Elite's managing director Darren Russell and his team took a detailed brief from lighting designer Tom Wright and technical director Peter Quinlan of 38Ten and constructed the lighting rig to their specifications.
Stage depth was limited as video was squeezed into the space. The curved front stage had a small thrust emanating from the middle, and above this were two semi-circular rings of trussing created with straight pieces rigged in a curved shape, with another gentler V-shaped truss further upstage.
Most of the BMFL Spots, BMFL WashBeams supported by the MMX Spots were positioned on these for good coverage of the stage. The ones on the outer ring could also swing around and highlight the audience.
BMFL Wash Beams were also chosen to balance the lighting levels for camera against the five columns of LED screen which were prominent onstage. Tom Wright operated lighting for the show using a GrandMA2.
(Photos: Elite Event Technology)
© 1999 - 2020 Entertainment Technology Press Limited News Stories