Aktuelle News & Schlagzeilen
Antelope Audio announces availability of Edge Go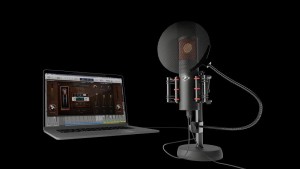 Antelope Audio announces availability of Edge Go, the world's first bus-powered modeling microphone. Edge Go is a studio-grade, large-diaphragm condenser USB microphone that provides producers, travelling musicians, podcasters, music vloggers, and tech reviewers with access to Antelope Audio's microphone-modeling technology.
Edge Go unlocks software emulations of many of the world's most iconic mics and studio effects processors. Recordings can get started by plugging the USB-equipped Edge Go directly into a Mac or PC and launching the included Edge Go software application.
Edge Go functions as an audio interface, offering A/D conversion with up to 192 kHz/24-bit resolution. It comes complete with the Edge Go control panel software, so users can instantly audition and compare 11 emulations modeled on time-tested studio microphones. From fat-sounding tube mics (like the Tokyo 800T, Berlin 49T, Berlin 67, and Vienna 12) through to crisp FET condensers (like the Berlin 87, Berlin M103, Berlin 47 FT, and Vienna 414) and beyond into the realms of smooth ribbons (like the Sacramento 121R and Oxford 4038).
Edge Go also allows access to a collection of 22 effects modeled on classic studio gear. These cover all bases with preamps, dynamics processors (including limiters, compressors, gates, and expanders), and a de-esser - namely, PowerGate, PowerEx, VEQ-1A, VEQ-HLF, BAE-1073, VEQ-55A, Lang-PEQ2, VEQ-4K Black, Master De-esser, BA-6A, FET-A76, VCA160, Liverpool, Stay-Levin, ALT-436C, Gyratec IX, VPA 76, BAE-1073MP, RD-47, and BA-31 - alongside Antelope Audio's AuraVerb.
The latter features six reverb types to assist with dialling in the right ambiance. Edge Go includes Reel to Reel, a reel-to-reel tape effect to give recordings a vintage vibe. The Edge Go software supplies access to presets like Telephone Effect, Massive Reverb Space, Fan Noise Reduction, and many more.
The processing power needed to run Antelope Audio's mic emulations and effects models is built right into the Edge Go microphone's hardware in the form of a dedicated FPGA (Field Programmable Gate Array) chip.
Antelope Audio's Edge Go microphone comes packed in a road-ready hard case with a heavy-duty shock mount, a metal mesh pop filter, an adjustable-angle desktop mic stand with a non-slip base, and a USB-C to USB-A cable. There's also a 1/8-inch headphone jack on the Edge Go microphone's body for zero-latency monitoring.
© 1999 - 2020 Entertainment Technology Press Limited News Stories