Aktuelle News & Schlagzeilen
Astera LED announces ULA Group as exclusive Australian and New Zealand distributor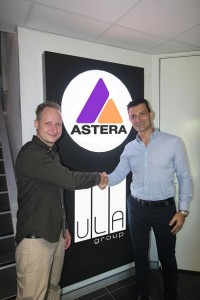 Astera LED has announced the ULA Group to be its exclusive Australian and New Zealand distributor. Says Astera's sales and marketing director, Sebastian Bückle, "I see huge potential in the Australian and New Zealand markets, which are highly developed, innovative in approach and growing fast, so we sought a partner that is progressive in thinking and approach."
Established in 1992, the ULA Group is one of Australia and New Zealand's best known and well-established professional lighting and visual solution providers. MD Cuono (Con) Biviano and his team provide lighting technology and visual solutions to all professional and commercial sectors including iconic structures and buildings, all types of entertainment venues and a variety of shows and events.
Pictured: Astera's sales and marketing director Sebastian Bückle (on the left) with ULA Group MD Cuono (Con) Biviano.
© 1999 - 2019 Entertainment Technology Press Limited News Stories